Tom Kilfoyle's involvement in yachting was brief but spectacular and centred around the two thoroughbred yachts he ordered from Robert Logan Sr, Tangaroa of 1890 and Aorere of 1892.
Tom entered the Post & Telegraph Department as a boy in 1877 and gradually worked his way up the ladder of promotion. By late 1889 he was on the committee of the Auckland Yacht Club and had somehow put aside sufficient funds to commission a racing centreboard cutter from Robert Logan Sr.
She was built in the style of Logan's 1880 freak Jessie Logan which Walter Jones had just sold to Wellington. This new yacht, Tangaroa, was pretty much an "improved" Jessie Logan, slightly longer at 30ft overall and with a lead shoe along part of the keel through which the ballasted centreplate dropped, getting her 25cwt of ballast down lower. When we restored Jessie Logan, we followed Tangaroa's example, with good effect.
In November 1889 Aorere was fastened throughout, coppered only on the lead, with copper paint on her hull. She has 4 tons of lead on her keel, being built after the usual deep-sinker type. The yacht has very sightly lines, beautifully modelled, with a handsome schooner bow and a fine run aft. She has a very long counter and overhanging stern. She is prettily panelled in the cabin, and has African redwood in her deck fittings. The smart appearance of the Aorere is heightened by white paint and a gilt streak round her, and also by a handsomely carved bow. Her fine American pine spars give the Aorere a most capacious spread of canvas.
Her main-mast, from deck to hounds, is 22ft in height, and her top-mast measures another 20ft. The main-boom is 31ft in length, and the gaff 22ft, the main-sail having a hoist of 21ft. The yacht is very carefully and handsomely finished, and does as much credit to Mr Logan's wide reputation as an excellent yacht-builder, as any of his previous launches."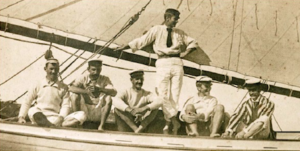 Aorere was launched on 24 November 1892 while Miharo was launched the following Saturday, 30 November. Yachtsmen in Auckland were eagerly interested in their first encounter which was to take place in the Auckland Anniversary Regatta on 30 January 1893 but there was not enough wind for the boats to finish the course.