Designer: Gilles Costantini
Costantini penned the lines for Eric Tabarly's Pen Duick II.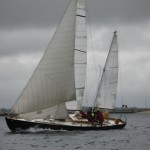 The 31′ Margilic V the Costantini family owned was a lightweight plywood hard-chined boat with a fin keel, so Gilles drew a longer version with a ketch rig, displacing 15,000 lbs. This hardly sounds revolutionary, but it was truly an unprecedented step. The unknown Breton designer built the biggest, lightest boat anyone had ever tried to race singlehanded–on the predominantly upwind course to Newport R.I.–and started an arms race for "line honors" that continues to this day.