At the beginning – Information courtesy of 'The Classic Yacht Charitable Trust'.
In the spring of 1895 Charles Bailey Jr and his younger brother Walter, trading as "C. & W. Bailey", built the 5 rater Ida for their good customers, merchants Jagger brothers and W. Frater Jr. At exactly the same time the Logans were building Moana, another 5 rater, for Willie and Fred Wilson of the New Zealand Herald. Logan Bros launched Moana on 14th November 1895. The Baileys launched Ida on 21st December 1895. Ida followed the Herreshoff style with a straight, raked stem and cut away forefoot. The New Zealand Herald described her fully on 23rd December 1895,
" A NEW YACHT
On Saturday morning a new five-rater yacht was launched from the yards of Messrs. C. and W. Bailey, Custom-street West, to the order of Messrs. Jagger Brothers and Frater. A large number of spectators assembled to witness the launch, which was very successful, the new yacht going into the water without the slightest hitch. Miss J. Jagger performed the christening ceremony, by breaking a bottle of champagne over the bow of the little boat, naming her the Ida, and wishing her every success. The yacht is built of kauri throughout, on the diagonal principle, with three skins, all of the planking being in one length. The deck fittings are of teak, and among other things the yacht is fitted with brass rigging screws, etc. She is rigged as a pole-master, the timbers being of Oregon pine, whilst the running gear is of the best manilla, manufactured by the New Zealand Fibre Company, of this city. The sails by the well-known maker, C. Reynolds, are a novelty in these waters, all being cut and made on the diagonal principle, and look very well indeed. The dimensions of the yacht are: Length, overall, 46 feet; load-water line, 30 feet; beam, 8 feet; draught, 6'6 feet. She is ballasted with three tons of lead affixed to the keel. The Ida trimmed beautifully when she took the water and is a very handsome craft, and judging from her lines should be very fast, and add more laurels to those already gained by her builders. She went out for a trial spin on Saturday afternoon, and took part in the yacht club manoeuvres, and was greatly admired, and her owners should feel very proud at having such a fine little vessel."
The Logans' Moana had the Britannia "spoon" bow and the powerful forward sections that went with it. She was a truly modern yacht, with a shape that was still essentially very competitive until the 1940s. So there were now three new thoroughly modern 5 raters on the Waitemata for the 1895-96 season. Anticipation ran high on the Auckland waterfront for their first clash at the Judge's Bay Regatta on 25th January 1896. On the day there were excellent conditions with a steady SW breeze. The entrants in the "Yachts 7-rating and under race" were Thetis, Ida, Moana, Halcyon, Aorere and Rangatira. Charles Bailey, probably to best helmsman on the harbour, sailed Ida, W.R. "Willie" Wilson sailed Moana and Reg Masefield Thetis. The reaching conditions suited Thetis which took an early lead and was never headed. Moana lost several minutes when she lost her throat halyards while Ida had the same thing happen later in the race. The result, Thetis 1, Ida 2, Moana 3.
Their next contest was six days later in the Auckland Anniversary Regatta on 29th January in light winds. Moana led for most of the race and finished first, ahead of Ida by12½ minutes. Thetis got to the start late and finished well back. Moana was reckoned to be "the best boat of the season in her class" and maintained that reputation ever after. Indeed Ida was fated to be always under the shadow of Moana. What successes she did have were thanks to handicappers, typically 3 minutes over Moana. Despite intense Bailey modifications and occasional flashes, she was a disappointment to her owners. Indeed, in October 1897 the Jaggers switched allegiances and had Logan Bros build them the 60ft ten rater Thelma. It took another two years for them to sell Ida during which she was laid up or leased out. In November 1898, Logan Bros had launched Rainbow which eclipsed immediately all other New Zealand yachts of her class like Ida. Finally, in December 1899, C.P. Murdoch bought her.
C. P. Murdoch was a Scots yachtsman who had gained a sound reputation, with his good friend Capt. A.J. S. Gibbs, in the early crack Spray in Dunedin and Auckland and then with Zinita, an 1894-5 season 2½ rater built by C. & W. Bailey to beat Gloriana, unsuccessfully. The 1895-6 season had produced three Logan 2½ rater challengers, Mahaki and Mizpah from Logan Bros and Rarere from Robert Logan Sr. Mahaki was invincible from the start. Zinita appeared to be eclipsed like earlier Bailey offerings. Murdoch bought her in the winter of 1897 and tweaked her hard to compete with the annual waves of Bailey and Logan raters.
Murdoch had some good wins with Zinita until he part-exchanged her with the Jaggers for Ida. The Jaggers found a ready sale for Zinita in Sydney where Auckland-built raters were eagerly sought after. She created immediate surprise with her good performance and got a good second in the Royal Prince Alfred 100 guinea Hordern Cup in January 1900.
Encouraged by his success in making Zinita competitive, Murdoch now set to work getting Ida to go. He took the NSSC Dunning Cup and the Parnell Sailing Club Jagger Cup in his first season with her. By the beginning of the 1900-01 season the Herald reported that she had "greatly improved in sailing powers". In December 1900, in a howling northeaster, Murdoch had a well-deserved victory in the Open Race at the Ponsonby Regatta.
Chairman of the Classic Yacht Charitable Trust John Street and boat builder Wayne Olsen visited Sydney in August 2018 to inspect Ida.
Ida was for sale as the current owners Jerry Brookman and Catherine Shirley had reached a point where, due to Jerry's ill health, they were unable to complete the planned deck restoration nor maintain her to the standard they previously took pride in. Jerry and Catherine had owned Ida for 20 years, the first 10 years of which they raced her in the classic yacht races on Sydney Harbour with the Sydney Amateur Sailing Club at Mosman Bay and the Balmain Sailing Club, where she won hands down.
Wayne's assessment was that, while the hull appears sound, being triple skinned kauri, it i was unclear what will be found once the inner layer is pealed back. She was in poor condition with much of the rest of the boat needing replacement. John recognised that Ida is an important part of New Zealand's boat building history and John, Jerry and Catherine duly agreed a deal to acquire her, which included Jerry and Catherine generously donating 20 kauri deck beams (220 x 13 X 5cm) and a spinnaker pole. John then arranged shipment back to New Zealand where she was moved to Horizon Boats shed in Stillwater.
Restoration underway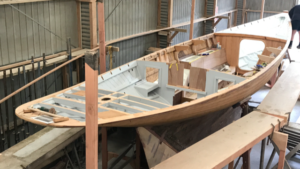 She was re-launched after her full restoration on 14/5/20.
She went on to win her first 3 races in the Classic Division of the Royal New Zealand Yacht Squadron Winter series and won the event overall.
Shortlisted for the CLASSIC BOAT AWARDS 2021 – Restored sailing vessels over 40ft
"Restored by Horizon Boatworks, Designed Chas Bailey, Built 1895, LOD 46ft (14m), Rig gaff cutter

Originally built as a Five Rater, the elegant Ida was in danger of being broken up in 2015, when she was found in Australia by her current owners, who shipped her home to Auckland, NZ. and Horizon Boats, where Wayne Olsen and team performed the full works, rebuilding much of the boat to bring her back to as-new condition today. This included decks in the almost mythical kauri timber. Now, she's queen of the A-Class in NZ classic yacht racing, fulfilling the promise born 125 years ago." CLASSIC BOAT