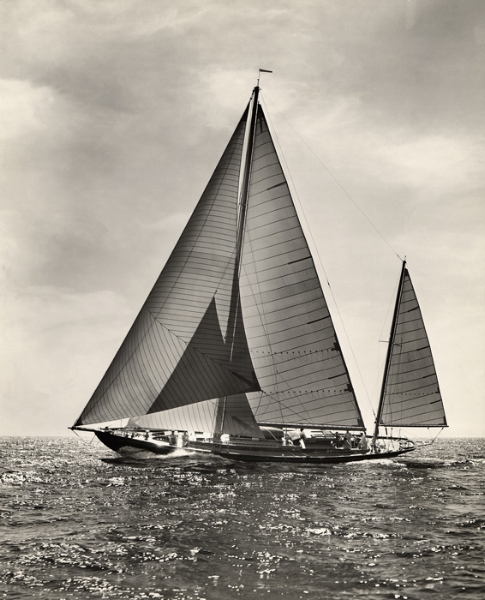 The Birth of Sailing Yacht Escapade
In the late 1930s, America was enjoying post-Depression euphoria and yacht building was heady, particularly for vessels stout enough for ocean going. During those days San Francisco Bay hosted the crews of Baruna, Good News, Athene, Orient, Adios, Chubasco and more.
Escapade is a 1938 72′ 6" double-head yawl rig designed for Henry G. Fownes of Stamford, Connecticut. She boasted 2,630 square feet of sail area. Fownes, a post-Depression era businessman, wanted the largest boat that could fit under the size limit for the Bermuda Race. He also required that design be fashioned with draft shallow enough to navigate the Intracoastal Waterway. Philip L. Rhodes engineered an innovative design with centerboard plan that afforded a varying depth range from seven feet minimum to 14 feet maximum. She was built at Luders Marine Construction Company in Stamford.
Off and Running
Shortly after her christening in 1938, Escapade was entered into the regatta circuit with her first competition being that year's Bermuda Race. This was the first time she'd spar with Baruna, a Sparkman & Stephens design also of LOA 72', but narrower, shorter at the waterline, lesser displacement and carrying sail area of only 2,340 square feet. In successive years Escapade would again race Baruna, as well as Bolero; eventually the trio came to be known as "The Three Great American Ocean Racing Yawls." Escapade did not win the Bermuda Race and in early years was not successful until under the care of Wendell Anderson, who acquired her in 1947. Anderson brought the boat to the Great Lakes area, and it was in that part of the world where she earned the name "Queen of the Lakes," proving five times to be unbeatable in the Mackinac Race.
In 1948 while racing the Acapulco Race off of Mexico, the on-watch crew identified astern a burning vessel in the distance. The crew took down the sails and powered in the opposite direction for an hour to reach fellow race vessel Celebes, finding all 14 crew members in the water and Celebes burned to her waterline. Continuing on with the race, Escapade campaigned to a second place finish despite her increased crew of 30 and the rescue time.
The majority of her race success came in the 1950s and 60s, on both Atlantic and Pacific Oceans as well as Great Lakes. Over the years Escapade has docked in San Francisco, West Palm Beach, Acapulco, Newport, Maine, Key West, Bermuda, Cuba, the South of France and other ports. During 70 years at sea she navigated a global route, earning plenty of race silver and touching the lives of many.
1980 – Opera House Cup – Overall Winner
1976 – Opera House Cup – Overall Winner
1967 – Port Huron-Mackinac Race – Overall Winner and last time raced in the lakes.
1966 – Miami-Nassau Race – First to Finish ( breaking 26-year-old record set by Ticonderoga)
1965 – Annapolis-Newport Race – Set New Elapsed-Time Record
1963 – St. Petersburg-Venice Race – Overall Winner
1962 – Channel Island Race – First to Finish
1961 – Miami-Jamaica Race – First in Fleet
1960 – Bermuda to Sweden – First to Finish
1960 – Miami to Montego Bay – Overall Winner
1958 – Acapulco Race – Rescued 12-man crew of Celebes still sailed to a second place finish
1954 – Port Huron-Mackinac Race – Overall Winner
1953 – Mackinac Race – Overall Winner
1951 – Rochester Cup – Overall Winner
1951 – Chicago-Mackinac Race – Overall Winner
1951 – Port Huron-Mackinac Race – Overall Winner
1951 – Toledo Yacht Club (Mills Cup) Overall Winner
1950 – Port Huron-Mackinac Race – Overall Winner (set course record 25:47:19, beating the old record by 2 hours)
1941 – Miami-Nassau Race – First to Finish
Information courtesy of www.renegadesailing.com