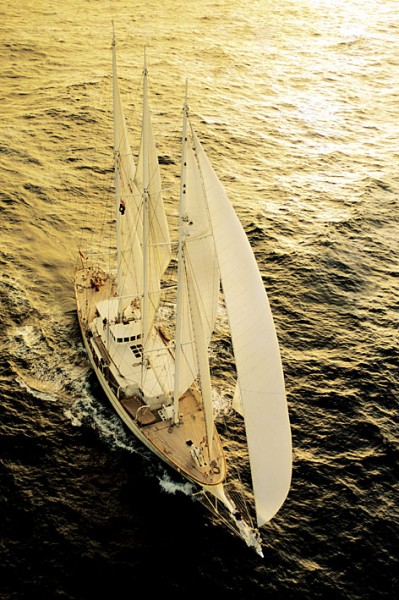 Built in 1930 for Robert Roebling, she was launched under the name of the 'Black Douglas'. She followed in the footsteps of 'Creole' that had been launched three years earlier and was dressed with the staysail schooner rig, also with 3 masts. During the 2nd World War she was used by the US Navy and became the anti-submarine vessel 'PY45'. Post war she was first used by the US Fisheries and Wildlife Service and then passed into the hands of a not too succcessful treasure hunter!
In 1972 she was re-named 'Te Quest', had a new rig installed and served as a school training ship for the next 10 years.
In 1982 she was purchased by new owners who took the well-worn 'Black Douglas' up to the yard at Abeking & Rasmussen. Over the next 14 months the yard transformed her into the 'Aquarius' that we recognise today. They completely rebuilt her, replacing her riveted plates with welded ones, and managed to keep the overall integrity and classic beauty of the vessel. Boasting a fine John Munford interior design and new masts and rigging she took off to sail the world.