Yacht: Zobeide
Submit Information on this Yacht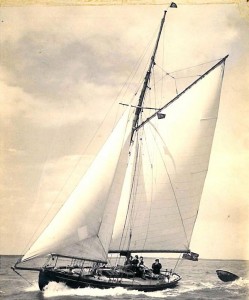 Peter Burnyeat sold her towards the end of the 1950's. "There are some good family stories of cross channel trips in the post-war ration period.   My Grandmother (Cherry Burnyeat) had a very sweet tooth and would make the trip across to France to get sugar to make jam.  They used to have to hide it under the bunks and distract the customs inspector with brandy on their return.
She is in the 1972 register as being owned by Edric and Enid Savage and her home port was Falmouth. The register also notes her former name of 'Granuaile' (who was an Irish Pirate Queen)".
Above information courtesy of Jake Burnyeat
"Mr Savage bought Zobeide in about 1966 and may have been the owner who undertook the repairs by Stebbings. Her name was Zobeide when he bought her, but she was formerly called Granuaile which is the name of a legendary C16 female Irish pirate aka Grace O'Malley. Zobeide would seem to suit her better; this was the character in the 1001 Nights who was thrown overboard and swam to shore; we always thought the unsinkable lady was a brilliant role-model." Information courtesy of L Savage.
Won four consecutive Heineken Regattas in the early 1980s. If John Miller – a man who kept the faith for 27-years – received a dollar from everyone who told him that the classic was finished, he'd be a wealthy man indeed. "It's my boat. I love it and I couldn't let her die" explained Miller as another new plank was planed, beveled and notched into place. The story of Zobeide is long and tortured. Brought to St. Maarten in the 1970s by Frank Walrave, one of the founders of FKG rigging.
The yacht's arrival in the Caribbean was the start of her glory days. But glories on the race course ultimately led to her downfall. It is difficult to say just what gave this classic such a turn of speed; some say her bow shape while others insist that she carried a dangerous amount of sail. Whatever the reason, Zobeide's appearance at the St. Maarten Heineken Regatta in the 1980s, when there was a class for Gaff rigged yachts, had everyone talking. And the talking continued as the yacht went on to win her division for four consecutive years.
Flush with success and now with a reputation to live up to, Zobeide headed for Jost Van Dyke, where she took on all comers at Foxy's Wooden Boat Regatta. Then it was onto Antigua and the Caribbean's premier Classic Yacht Regatta where, unstoppable, she powered on to win after win.
Then came the disastrous year of 1995. While competing in Antigua, Zobeide was T-boned, and the result was serious damage to her hull. Wanting to have the boat repaired on his own turf, Miller sailed the crippled yacht back to St. Maarten, where his problems really began! While at anchor in the Simpson Bay Lagoon awaiting repairs, she was hit by another yacht during Hurricane Luis and went to the bottom. Re-floated and hauled out, the luckless classic was then blown over by hurricane Bertha in July of 1996. Over the next few years, the yacht was dragged from one location to the next. Various carpenters came and went, yet the yacht continued to decay. Most observers said she was finished and indeed it did look that way.
Then, early in 2007, things began to happen and happen fast. Few boats have come as close to destruction as Zobeide but it goes to show just what a dedicated owner and two first-class shipwrights can do. Had I not seen the transformation of this boat from a write-off to a thing of beauty for myself, I would find it hard to believe.
Starting from the bottom up, and following the original plans found by Miller in the Greenwich Maritime Museum, London, the hull planking was removed and the covering-board lifted from the deck. The removal of the covering-board allowed the shipwrights to replace the boat's frames. Each new laminated frame was slipped into the boat in one piece while the glue was wet and then clamped into place. Later, when the hull was re planked, t he planking was attached to each individual frame by traditional copper rivets and roves.
Hard work that requires patience and a skill not often found in boatyards today. The main structural timbers were also replaced including the stem, forefoot, horn timber and floors. On my last visit to Zobeide, her new Sitka Spruce spars were shining with varnish. All the work has been meticulous, yet the final word lies with her new deck, which is a tribute to the shipwrights' art. There is still work to be done on Zobeide's interior before she is ready, but ready for what? I put the question to John Miller. "We're going to put a good crew together and race on the classic circuit", he said, adding with feeling, "including Antigua." A journalist and yachting commentator, Gary hosts the marine show YachtBlast, which broadcasts twice a week on Island 92, 91.9 FM. St. Maarten.
Designer:
Frederick Shepherd
Type of Boat:
Rig:
Gaff Cutter
Year Built:
1910
Built By:
Burnham-on-Crouch, UK
LOA m / ft:
LOD m / ft:
LWL m / ft:
Beam m / ft:
Draft m / ft:
Yard No:
Sail Stats
Construction:
Other: