Yacht: White Wings
Submit Information on this Yacht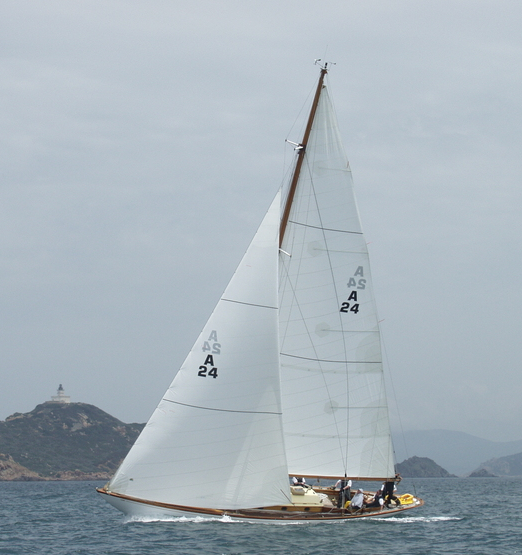 White Wings is one of American yacht designer John Alden's best known yachts. Before the second world war and again in the early 1950s, she was the flagship of the Royal Canadian Yacht Club. In the early 1960s, White Wings ended up in England and then in the mid-1970s sailed to the Cote d'Azur.
"I owned this yacht from 1977 to 1992, purchasing her from the second owner, at the Royal Canadian Y.C. and did extensive repairs and restored her to her original rig from 1977 through 1980.  I sold it to a French gentleman who had much additional work done in England: new engine, new mast, new deck, etc." Bob Stryker
She belonged to Baron Von Vinck between 1997 and 2005, before being purchased by the French actor Olivier Martinez. During this period, she was based in Corsica. In 2007, however, White wings was bought by Mike Sparks of Hamble and was restored at Antibes by shipwright Alan Bostock who worked on her keel and reinforced her frames. In 2009 and 2010, White Wings finished second in her class at both St Tropez and Cannes.
Designer:
John G Alden
Type of Boat:
Rig:
Bermudan Sloop
Year Built:
1938
Built By:
Taylor & Sons, Toronto, Canada
LOA m / ft:
15.2m / 49'8"
LOD m / ft:
15.2m / 49'8"
LWL m / ft:
10.14m / 33'3"
Beam m / ft:
3.56m / 11' 7 1/2"
Draft m / ft:
2.13m / 7'
Yard No:
Sail Stats
Sail Area: 100 sq.m / 1075 sq.ft
Construction:
White oak frames which were originally reinforced at the turn of the bilge by bronze strapping. Her planking is Philippine planking. Her deck is teak.
Other: