Yacht: White Heather
Submit Information on this Yacht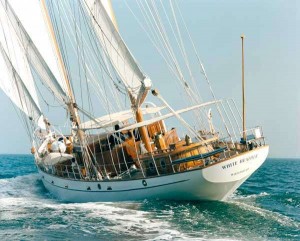 Launched as 'Aries' she holds a similar look to Ticonderoga that was built over 40 years earlier. She was designed for long North Atlantic and Arctic cruising, so the accent was on a seaworthy structure and voluminous hull form.This gives her interior, more space and comforts than are found in many classics of her size, which were often designed for racing performance.
In 1959, Aries was donated to the American Geographic Society and served as an oceanographic research vessel.
In the early 80's in Halifax, she acquired a new owner – Canadian dentist Dr. Jene Jensen – a new interior, bermudian rig and her present name of White Heather.
Jensen had her refitted to a high standard and she retained her Lloyd's A1 classification and went chartering until, in 1989, she was dismasted in the Caribbean, during a hurricane.
White Heather was then acquired by a Dutchman, who brought her to Europe and started a restoration, but there were certain difficulties with the Dutch tax authorites and other financial problems for the owner at the time. This meant the work had to be stopped and the boat was put up for auction, in 1995.
That is where Jan van Grinsven, owner and long time captain came in. Van Grinsvan had a textiles company that employed 200 people, but when he saw the White Heather, he decided it was time to pursue a dream and sail the world. He sold his business, bought the yacht and had her extensively restored, with a new rig sails, new electrical systems, piping, engines and some interior modifications; notably, the conversion of four small guest cabins into two larger ones, with en-suite facilities.
The White Heather became home and charter boat, providing a high standard of hospitality, in a unique ambience, a kind of character hotel afloat.
At the time he announced his plans for extensive cruising, van Grinsven promised his wife that they would spend no more than 10 years boating so, in 2002, they began looking for a place ashore, where they could again have a family home and a business.
After searching Spain and France, they settled on the Château Les Merles, in France's Dordogne region, which they bought, in 2003, as a place where Jan van Grinsven could enjoy his other passions; golf, cooking and enjoying fine wines!
After restoring a boat, sailing around 70,000 nm as captain and welcoming guests into his home afloat, Jan van Grinsven has cast off his sea boots and is repeating the cycle ashore! The château has been restored, the cellars stocked with the finest Bergerac wines, the restaurant has already been named in Gault et Millau and the White Heather is for sale.
Designer:
Charles Ernest Nicholson
Type of Boat:
Rig:
Bermudan Ketch
Year Built:
1978
Built By:
O Lie-Nielsen, Rockland, Maine
LOA m / ft:
32m/105'
LOD m / ft:
28m/92'
LWL m / ft:
23.93m/78' 6"
Beam m / ft:
6.25m/20' 6"
Draft m / ft:
centreboard up:2.29m. Centreboard down:5.12m / centreboard up:7' 5". Centreboard down:16'10"
Yard No:
Sail Stats
Construction:
The largest cold molded boat to be built of its time. Hull: cold moulded wood (WEST system)
Other:
Displacement: 90 tons.