Yacht: Vema III
Submit Information on this Yacht
1933-37
Commissioned by Georg Unger Vetlesen, Oslo/New York and she was built the year KNS celebrated 50 years. She competed in numerous races at Hankø, in Scandinavia and at Cowes Week, Isle of Wight.
1937-40
Name changed to 'Varg VI' by the new owner, Fritjof Larsen from Oslo. He was the son of sailor ikon Alfr. W. G. Larsen. Under his ownership she raced against T.O.M Sopwith and his 12 metre Blue Marlin at Hankø.
​
Varg VI was removed from RNYC sail register 03.05.39 and it is unclear what happened to the boat during the war. Fritjof Larsen dies 1945 and his son was shot by the Germans 1942/43.
We suspect VARG VI was confiscated by the Germans during the WW2. We are investigating and hope to find out more.​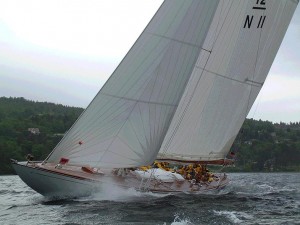 ​
1945-1954
Renamed Diva III by her new owner Johan Sommerschild from Oslo. Back into Norwegian hands after World War II Norway was at the time the only country in the world where 12-Metres where still being raced and Diva III had stiff competion from Charles U Bay, the US ambassador to Norway, and his yacht 'Norsaga'.
1954-79
Renamed Lakme VI by new owner, Sam Ugelstad of Oslo. He had two uniformed crew keep the boat in ship-shape condition. With Lakme VI being the biggest yacht in the fleet of the RNYC (KNS), Ugelstad had the honour of being Escadrille leader. The engine was installed in 1968 and at the same time the tiller was replaced by the steering wheel.
1979-99
Brought back to her original name Vema III by new owners Tor Jørgen Dahl & Lars Christian Dahl from Oslo. The Dahls understood the seriousness of the condition of Vema III and started replacing some of the most key structural elements which where completely taken by corrosion. She went on to receive the prize for best preserved boat at the Wooden Boat Festival in Risør in 1994 and at Walstedt Baadeverft in 2002.
1999-2006
A new owner joined one of the Dahl brothers so she now belonged to Einar Nagell Erichsen and Tor Jørgen Dahl. She underwent an extensive restoration at Walstedt Baadeverft in Denmark. She then raced at the America´s Cup Jubilee in Cowes in 2001.
​
2006-…
New owner: Skipsrederiet Vema III AS which is a group of 9 keen sailors who have secured Vema III and established the company Skipsrederiet Vema III AS.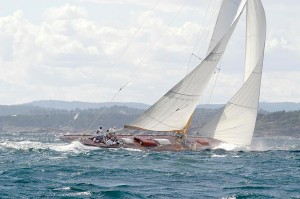 Information courtesy of www.vema3.no
Designer:
Johan Anker
Type of Boat:
12-Metre
Rig:
Bermudan Sloop
Year Built:
1933
Built By:
Anker & Jensen, Vollen, Asker, Norway
LOA m / ft:
21.25m / 69'7"
LOD m / ft:
21.25m / 69'7"
LWL m / ft:
13.92m / 45'6"
Beam m / ft:
3.58m / 11'7"
Draft m / ft:
2.9m / 9'5"
Yard No:
Sail Stats
Sail No: N 11 Sail Area: 183 sq.metres / 1,969 sq.ft
Construction:
Oregon pine hull on steel frames and ash ribs
Other:
Displacement: 33 tonnes