Yacht: Vagrant
Submit Information on this Yacht
Ordered by Harold Vanderbilt on November 2nd, 1912 and launched May 17, 1913.
"When racing was resumed after the War the fleet was small but the schooners were of the first rank and well handled, the most conspicuous being the Vagrant, owned by Harold S. Vanderbilt, Commodore of the club from 1922 to 1924. He sailed her almost faultlessly and was successful in winning both the Astor and King's Cups two years running, an achievement that has never been equalled." The Major Yachts' by Bennett Fisher, Published in 'Sailing Craft' in 1928.
2017
Shown on the Hannibal Marina, Monfalcone, website: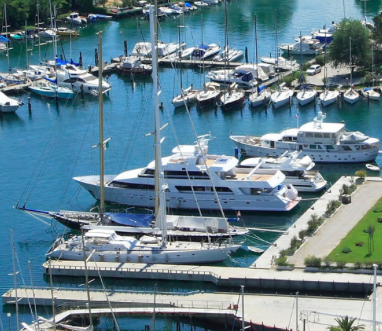 2018
Royal Huisman stripped her out and 'reanimated' her graceful lines with a new crew quarter. Technical installation like the engine, generator, heating, air condition and so on will be smartly installed. Dykstra Naval Architects are to redesign her schooner-rig with yankee, staysail, main staysail and queen fisherman. Rondal will build new aluminum masts including a furling system for the fisherman sail and mainsail.
May 2019
Relaunch at Royal Huisman, Zaandam, Holland.
Shortlisted for the CLASSIC BOAT AWARDS 2021 – Restored sailing vessel over 40ft
"Restored by Royal Huisman, Designed Nathanael Herreshoff, Built 1913, LOD 106ft (32m), Rig schooner
Even for Huisman, the scope of this 22-month refit was "vast", resembling more a rebuild than a restoration of the magnificent steel-bodied schooner. The owner's brief to "reconstruct Vagrant's magnificent elegance and style inside and out" and to "re-engineer with the finest materials and most advanced systems for sensible, effortless and safe operation" was aided by Huisman's rigging arm, Rondal, and Dykstra Naval Architects." CLASSIC BOAT
Designer:
Nathanael Greene Herreshoff
Type of Boat:
Rig:
2 Masted Schooner
Year Built:
1913
Built By:
Herreshoff Manufacturing Co., Bristol, Rhode Island, USA
LOA m / ft:
39m / 128'
LOD m / ft:
33.2m / 109'
LWL m / ft:
17.3m / 56'7"
Beam m / ft:
5.5m / 18'
Draft m / ft:
3.5m / 11'4"
Yard No:
719s
Sail Stats
Construction:
Steel
Other: