Yacht: Trivia
Submit Information on this Yacht
Built for Mr Vernon W MacAndrew under the Third International Rule, she had a bermudan sloop rig and was very successful. During her first season she began to compete with the other 12's obtaining excellent results: 13 firsts, 11 seconds and 6 third places out of 41 starts she was classified as first in her class. In 1938 MacAndrew steered her so successfully that at Cowes Week he won 21 prizes, including the King's Cup. Even in 1939, she found only two other 12's to challenge, the new boats Tomahawk and Vim.
The Second World War brought an end to the regattas for the 12-Metres in Great Britain. Vernon MacAndrew died on June 22nd 1940 as a german magnetic mine sank his yacht Campeador, which had been converted to a patrol vessel.
After the war Trivia was sold to Charles Ulrick Bay, an American industrialist and then the US ambassador of Norway, where she sailed during the 50s under her new name 'Norsaga'. When she was brought back to England in 1959, she once again showed her competitiveness as the trainer yacht for Sovereign, the UK contender for the 1964 America's Cup, winning all three races of the Milkweek 12-Metre series in America.
In the 1968 Chicago-Mackinac race Trivia proved what she could do under the most formidable weather conditions in 57 years. A record fleet of 185 yachts, cream of the Great Lakes deep-water fleet, started the 333-mile dash to Mackinac Island. But only 157 yachts finished in the roughest event since 1911. 28 yachts were forced to abandon the race as casualties of 50-60 knot squalls. Trivia was the first boat across, followed by another 12-Metre Mitena. Trivia actually sailed the fifth fastest time in history: 37 hours, 40 minutes.
During the 60s and 70s, Trivia still sailed in America under the name Norsaga, until she sank after an accident. The wreck was brought back to England in the mid 80s and was kept there several years to be restored. In 1991 Trivia finally undertook a complete restoration at Camper & Nicholson for a new Italian owner. Between 1991 and 2000 she took part in the 12-Metre European Championships obtaining good results. In particular, she won the Porto Cervo Regatta and the Coupe des Yacht Club de France in 1993, and the Voiles de Saint Tropez in 2000.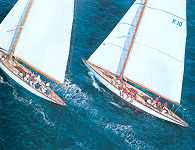 Vanity V und Trivia
In August 2001 Trivia participated in the 150-year America's Cup Jubilee in Cowes. She was back in the waters of the Solent, where she was originally built and also restored. 36 12-Metres from around the world joined for this unique event which brought back an era of truly exceptional yacht racing.
In June 2002 Trivia joined the nordic fleet of 12's for the Robbe & Berking Classics in Flensburg, Europe's biggest annual gathering of 12 metre yachts.
July 2015 – Trivia comes home in second place to Vim in the European Championships.
Designer:
Charles Ernest Nicholson
Type of Boat:
12-Metre
Rig:
Bermudan Sloop
Year Built:
1937
Built By:
Camper & Nicholson
LOA m / ft:
21.4m / 70' 1
LOD m / ft:
21.4m / 70' 1
LWL m / ft:
13.94m / 45'7"
Beam m / ft:
3.55m / 11'6"
Draft m / ft:
2.71m / 8'9"
Yard No:
Sail Stats
Sail Area: 178 sq.m
Construction:
Wood on steel frames
Other:
Displacement: 27 tons