Yacht: Thalatta
Submit Information on this Yacht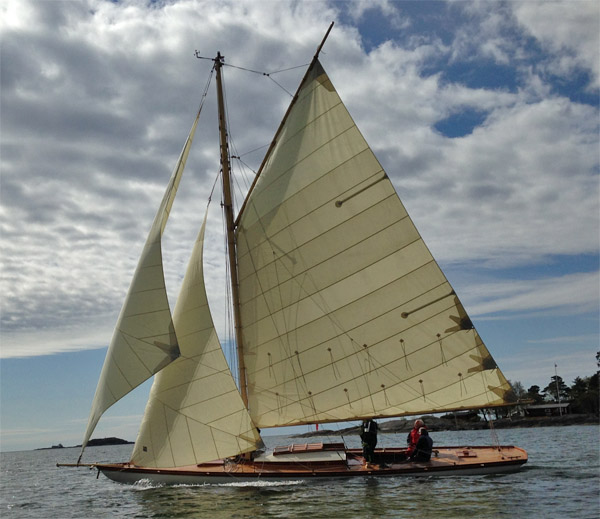 Thalatta was commissioned in 1911 by Lieutenant John Höglund and was built at Holm's Shipyard in Gamleby together with three similar sister boats in the winter of 1911/12. Höglund then sailed her at the International Regatta in 1912 in Nynäshamn, where he came 6th, 2nd and 1st.
1915-1931 she was owned by the engineer K A Giöbel from Oskarshamn.
1931-34, Carl Drakenberg, a retired CEO from Neptune companies in Stockholm, owns her, and after his death she was owned by his son, Erik. Erik orders a replacement yacht in 1938 at Holm's shipyard and orders a sea cruiser that he also calls Thalatta.
Following 1938 Thalatta's ownership history is somewhat unclear. Perhaps she was owned by the clock-maker Magda Holm.
In 1962, Count K Mörner owns her, then with the name 'Demimonde'.
In the early seventies she becomes bermuda rigged in Stockholm under the name 'Gas Accumulation IV' and owned by Thomas Paulin.
In the winter of 1974-75 Hans Byström, Bertil Johansson, Bengt Ekdahl and Rolf Jönegård in Limhamn buy her and she is called 'Enkröfven'. In 1975, Rolf sells his share to the other owners.
2012-2013 she is solely owned by Bertil Johansson.
In 2013 Bobby Cyrus and Lars Nordlund, Stockholm, buy her for 2 kr to save her from crumbling. They return her to the original gaff rig with her original name 'Thalatta' and repair where necessary.
In 2013 she is bought by Kurt Rasmussen, Clas Stenberg and Christopher Hillman, who completely renovate her in the winter of 2013/14.
Information courtesy of the Sail Yacht Society.
Designer:
Gustaf Schüssler
Type of Boat:
55-Square Metre
Rig:
Gaff Cutter
Year Built:
1912
Built By:
Holms Varv
LOA m / ft:
14m / 46'
LOD m / ft:
LWL m / ft:
11m / 36'
Beam m / ft:
2.49m / 8'1"
Draft m / ft:
1.5m / 5'
Yard No:
Sail Stats
Construction:
Other: