Yacht: Stephen Taber
Submit Information on this Yacht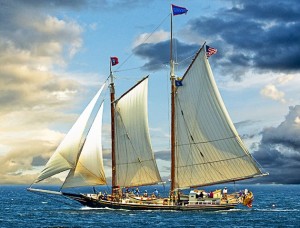 Built on Long Island, New York to transport cargoes of brick, coal, lumber, oysters and a variety of other cargoes. From 1871 thru 1920 Stephen Taber hauled freight around Long Island Sound and up the Hudson River.
In 1936 she was brought down east, rebuilt and used to haul lumber on Penobscot Bay.
In 1946 she was refitted for the Maine windjammer passenger trade and has become known as the "Good Luck Vessel" because of the caring attention she received from a series of owners through her many decades of service.
She is the oldest documented sailing vessel in continuous service in the United States and has been designated a National Historic Landmark.
Rebuilt in 1978.
In 1980 the Stephen Taber was bought by Captain Ken Barnes who sailed her in the Maine windjammer passenger trade for 25 years. Today his son Captain Noah Barnes sails her out of her home port of Rockland, Maine.
Designer:
Type of Boat:
Rig:
2 Masted Schooner
Year Built:
Built By:
Van Cott Shipyard; Glen Head, NY
LOA m / ft:
/ 115'
LOD m / ft:
/ 68'
LWL m / ft:
Beam m / ft:
/ 22' 6
Draft m / ft:
/ 5'
Yard No:
Sail Stats
Construction:
Hull: wood.
Other:
Displacement: 70 tons