Yacht: Silver Streak
Submit Information on this Yacht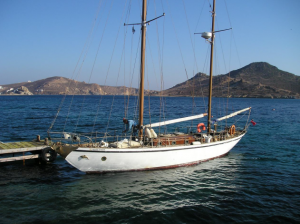 Commissioned by H.R.Watt Esq., as a 15-ton auxiliary ketch she was launched in June 1937. A number of news articles mention the Silver Streak (Classic Boat, The Yachtsman, etc), and Beken of Cowes has published photos of her sailing in the Solent. She spent her early sailing days in the Isle of White and the Solent, after the war moved to Devon, and in the 60s she moved to Cape Town in S. Africa, where she became a well known racing yacht. In the 70s she crossed again the Atlantic in the 1973 Cape-to-Rio Race, and eventually sailed back to the Eastern Mediterranean, where she is still based.
The Silver Streak's original drawings have been used for the yacht's restoration. She had suffered from a number of years of neglect, as well as numerous modifications which did not respect her classic design, and after a complete strip out of the interior, the owner decided to perform an in-depth restoration. The works were undertaken at the Patmos Marine yard in Patmos, Greece.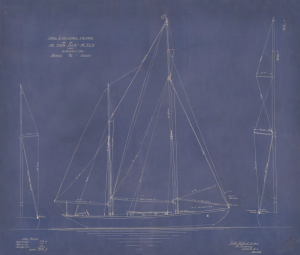 In summary the result of this restoration was:
1. Exterior and masts: the exterior of the yacht was restored by using mostly the original woodwork/equipment (exterior hull planking, the lead keel, the coachroof/cabin top, the masts & booms).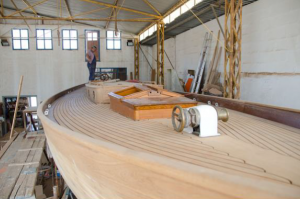 2. Interior: the interior was rebuilt entirely combining new teak with salvageable teak from the original interior, and based as close as possible to the original plans and style. The teak-paneled doors, and the mahogany companionway are the only items that are entirely original.
3. Electromechanical Equipment and Rigging: use all new engine, drivetrain and related hardware, rudder, electric installation and plumbing, standing and running wire rigging and related equipment. The original bronze Edson wheel steering system, as well as the period winches and bronze deck and sailing hardware were restored.
"My Grandfather, Major H.P. Clarke, owned Silver Streak after the war in the 1940s. There was a photo of her in his house and I always thought she was a lovely yacht. He moved to Devon at the end of the war and lived first at Chudleigh and then at Torquay. I believe that at one point he was Commodore of the Royal Torbay Yacht Club. In the photo, she appears to be flying the burgee of the RTYC. I also like seeing that the crew have jackets and ties for sailing!
On the back of the photo was written the following information:-
Silver Streak, 16 Tons TM, Designer F. Shepherd
Built by A.H. Moody, Burlesdon 1937
Length O.A. 44'6", W.L. 31'8", Beam 10' 2", Draught 6' 0"
3 Cyl Ailsa Craig Diesel Engine
Won R.T.Y.C Eddystone Race 1947. Skipper R.T. Clarke
Richard 'Dick' Clarke was my Uncle
They had a hired hand to help maintain and sail her. Apparently the Ailsa Craig diesel engine was huge and took up most of the space in the saloon." Tim Clarke
Designer:
Frederick Shepherd
Type of Boat:
Rig:
Bermudan Ketch
Year Built:
1937
Built By:
Moody & Sons, UK
LOA m / ft:
LOD m / ft:
13.6m / 44'6"
LWL m / ft:
Beam m / ft:
3.1m / 10'2"
Draft m / ft:
1.82m / 6'
Yard No:
Sail Stats
Sail Area: 1010 sq.ft
Construction:
Burmese teak on oak frames
Other: