Yacht: Seonaid
Submit Information on this Yacht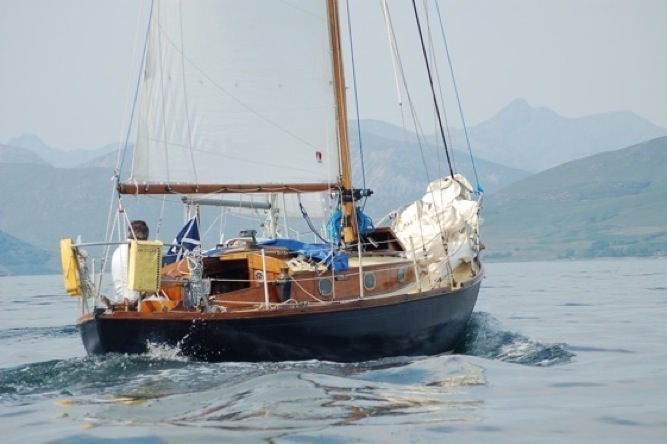 'I purchased Seonaid in 1991 from the late Patrick Crichton of Dumfries,  who was the third owner of Seonaid,' writes Evander Macrae on the Isle of Skye. 'She was originally called "Seaquin", but the name was changed by the second owner to Seonaid, as it is the Gaelic for Janet, his wife's name.
'
Seonaid
 was cutter-rigged when I purchased her (I believe this modification was completed by Patrick Crichton who had installed a three foot bowsprit), but following some very rough experimentation by ourselves, we felt performance was not an issue rigged without the bowsprit – in fact, believe she is better balanced now than she ever was. In the late 1990s I painted her in her current Britannia Blue colour scheme, following years of varnishing.
'In 2007, I removed 
Seonaid
's second engine [a Volvo 2002] and installed a 13 hp two-cylinder fresh water cooled Beta driving a new 'Darglow' three-bladed feathering prop. This reduced weight from aft and the reduction in drag from the previous fixed prop really upped 
Seonaid
's performance.
'In 2008, following the failure of the original mast (due to internal rot above the spreaders) and difficulty in sourcing a replacement wooden mast, I took the difficult decision to fit the current tin mast. I did however specify an increase in mast height of 12 inches, which is why in some photos the main looks so short in the luff.'
Information courtesy of The Bangor S Class Archive
Designer:
Robert Slater
Type of Boat:
Bangor S-Class
Rig:
Bermudan Sloop
Year Built:
1962
Built By:
Robert Slater, County Down, Northern Ireland
LOA m / ft:
8.22m / 27'
LOD m / ft:
8.22m / 27'
LWL m / ft:
7.55m / 24'8"
Beam m / ft:
2.43m / 8'
Draft m / ft:
1.4m / 4'6"
Yard No:
Sail Stats
Construction:
Other: