Yacht: Rita IV
Submit Information on this Yacht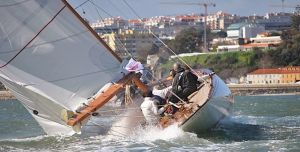 Sandeman Yacht Company History
William Fife III Design No. 736
The stronghold of activity and interest in the International Rule 10-Metre Class has always been the Baltic Sea and its associated coastlines out to Norway. In Denmark, royal approval and patronage ensured a strong 10mR fleet there through the 1920s and into the 1930s, often with six boats coming to the start line. Even as relatively recently as the mid-1980s, the register of Dansk Forening for Ældre Lystfartøjer (the Danish association for older pleasure craft) included four active 10mRs, though by then dedicated cruisers.
For his third 10mR, and fourth RITA, King Christian X commissioned this beautiful design from Scotland's William Fife III for building by English ship and boat builders John I. Thornycroft & Co's boat, truck and engine building venture in Copenhagen's Sydhavn, Thornycroft Scandinavia A/S, established in 1913.
The yard's master boatbuilder, C.F. Hansen – originally from Helgoland – had previous experience of working to the famous Scotsman's exacting specifications in the build of serial racing yacht (and Copenhagen department store Magasin du Nord – "the Harrods of Scandinavia") owner William Vett's Fife-designed 6-Metre BONZO, in which Vett won the 6mR Silver Medal at the 1924 Paris Olympic Games 6mR and 8mR Classes regatta sailed at Le Havre.
Construction of RITA IV was closely supervised by the King's Sailing Master, Holger Rodkjær. Fife's specs in metric units included 29mm mahogany planking of not less than 560kg/m3 density. Her inventory included two masts: the racing one of silver spruce, and a second made from Danish larch. Although Lloyd's Register of yachts credits her original sail inventory to the English Ratsey & Lapthorn loft – a suit made in 1925, possibly for RITA III – the contemporary Danish press mentions only a suit by Johan Freytag of Copenhagen.
RITA IV was christened at launching by Queen Alexandrine on Saturday 17th April 1926 with her husband present, and Lieutenant John W. Thornycroft in attendance representing the parent company. Her maiden sail was two weeks later, on Saturday 8th May, from the yard via a cruise of The Sound to her mooring at Kongelig Dansk Yachtklub (Royal Danish Yacht Club)'s Langeline clubhouse just north of Copenhagen city centre. Accompanying the King were Rodkjær, yard director R.F. Newman, and the King's long serving professionals Petersen and Pedersen.
RITA IV was raced by the King until the end of the 1929 season. A new Royal 10mR was commissioned from Johan Anker, and from the 1930 season RITA IV became KARAMA under the ownership of Danish shipowner A.P. Møller. Although it is believed that during 25 years with Møller KARAMA was mainly a cruiser, he kept her engineless. She remained thus until 1955 when a 6-cylinder Penta motor was installed in Denmark on transfer to her third owner, Pierre Poulain, whose oil tanker shipping line, Société des Transports Maritimes Pétroliers (STMP) was then a very significant client of A.P. Møller's Odense Staalskibsværft shipyard on the Danish island of Fyn.
Yacht Club de France and Société Nautique de Marseille member Poulain had KARAMA shipped first to Le Havre, then to Marseilles for the start of a brief Mediterranean period. Her second French owner from 1960 was Le Havre shipping insurer, newspaper owner and politician, Yves Chegaray, but this seems to have been a short-lived affair: the 1961 edition of Lloyd's Register of Yachts listed her as "Sold to U.S.A."
She remained KARAMA on the West Coast under the ownership of prominent San Diego architect and SDYC member Richard George Wheeler, notably winning Ocean Racing Division Class A in the 1966 Newport to Ensenada Race at the expense of Arnold and Don Haskell's Sparkman & Stephens 67ft yawl CHUBASCO. Then, from about the mid 1970s she became David Emery Baxter's RAPIER out of Newport Beach and Morro, California. The colour 1980s photo here is from Danish yachting historians Bent Aare and Jan Ebert's 1984 publication 'Bogen om Meter-Bådene' which recorded her then name as KALALAU.
By the early years of the 21st Century her structure had deteriorated to the extent that she no longer sailed. Yacht designer and classic yacht enthusiast Doug Peterson did much to stir interest in saving this Fife gem. By 2008 she had been shipped to Brian Pope's Ocean Yacht Company yard in Cornwall, England to connect with a restorer. And three years later this happened: shipped again to Setubal, Portugal in 2011 for the beginning of the process by David Vieira and Miguel Ministro of Absolute Projects that has resulted in the magnificent yacht she is again, and is related elsewhere here.
Since 2015, as RITA IV again (it always remained engraved on her rudder head), she has been beautifying Lac Leman, Switzerland, and racing again to the manner born.
KING CHRISTIAN X (1870-1947) AND HIS RITAs
1899 RITA (Komm. Bonnesen/ Christian N. Laudrup, Copenhagen 1894 as PRINCESS)
1912 RITA II (10mR d & b Max Oertz, Hamburg, 1907 as PINGUIN II)
1922 RITA III (10mR Johan Anker/Anker & Jensen, Asker, Norway 1919 as CYRANO)
1926 RITA IV (10mR Wm Fife III/Thornycroft Scandinavia, Copenhagen)
1930 RITA V (10mR Johan Anker/Anker & Jensen, Asker, Norway)
1937 RITA VI (10mR-Cruiser E Wedell-Wedellsborg/Nordbjærgs Bådeværft, Copenhagen)
Other information
Owned by David Emery Baxter in Newport Beach, Ca. He took her to Morro, Ca. around the late 70's.   Her name was 'Rapier' at that time although 'RITA IV' was engraved in her tiller.   When I sold her I felt she should not race any more.   She is King Christian X's 10 Metre.
"Rita IV was also named 'Karama' and owned by A.P.Moeller, founder of the Maersk line.
I have personally had the pleasure of sailing with her from Gilleleje to Skovshoved,  Denmark with the owner's guest". Ole Rasmussen
In 2009 she was undergoing a restoration.
Designer:
William Fife III
Type of Boat:
10-Metre
Rig:
Bermudan Sloop
Year Built:
1926
Built By:
Thornycroft, Denmark
LOA m / ft:
17.65m / 57'11"
LOD m / ft:
17.65m / 57'11"
LWL m / ft:
11.58m / 38'
Beam m / ft:
3.3m / 10'10"
Draft m / ft:
2.22m / 7'3"
Yard No:
Sail Stats
Construction:
Canadian or American elm on steel frames. Basic framing, gunwhales, stringers are probably pitch pine. Main backbone, stem, keelboard, stern post and outrigger are oak. According to Sandeman Yacht Company: Mahogany on laminated mahogany and steamed oak frames.
Other: