Yacht: Morna
Submit Information on this Yacht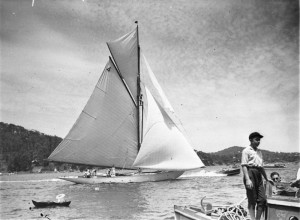 Designer:
William Fife III
Type of Boat:
Rig:
Gaff Cutter
Year Built:
1913
Built By:
Morrison & Sinclair, Sydney
LOA m / ft:
18.81m /
LOD m / ft:
LWL m / ft:
13.65m /
Beam m / ft:
3.96m /
Draft m / ft:
2.65m /
Yard No:
Sail Stats
Sail Area: 272 sq.m
Construction:
Although 'Morna' was never rated as a 12-Metre her drawings probably came from the First International Rule. She was built for Sir Alexander MacCormick, named after one of his daughters and used as a daysailor out of Sydney. 'Morna' was sold in 1929 and then went through a number of owners before Sir Claude Plowman, a radio manufacturer, bought her in 1930. He loved competition and entered her in three consecutive Sydney-Hobart races from 1946 to 1948. In 1954 she was bought by the Livingston family and renamed 'Kurrewa IV'. She remained in Sydney and between 1954 and 1960 she entered six Sydney-Hobart races and achieved the fastest time in four of the races. She was then laid up and left until she was bought by a new owner in 1977. Last reports suggested that she was waiting for a restoration.
Other:
Displacement: 55.2 tons.