Yacht: Linnet
Submit Information on this Yacht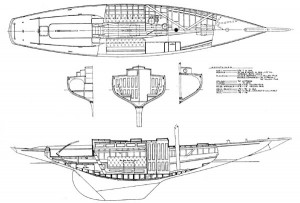 Linnet was riginally built with a gaff rig and she is one of only 10 New York 30's still sailing today.
She was restored in 1998 at Cantiere Navale dell' Argentario in Italy, and was once owned by 'W' guru Peter Brookes.
She  attended the regattas in the Mediterranean (2005).
She was featured as a Centenarian in Classic Boat 203 – May 2005.
She attended Argentario Sailing Week and Regates Royales during 2016 with her owner, Prada CEO Patrizio Bertelli, on board with Luna Rosa Skipper Max Sirena.
"My father Niles Raymond Hynes owned Linnet in the  1950s early 1960s. She was the love of my fathers life, after my Mother of course. We sailed her out of the Bedford Yacht Club where my father was Commodore. Boat for boat Linnet could not be beaten. We would come over the finish line time and time again long before any other boat, but her handicap was so high that first place finishes were hard to accomplish. But indeed my father did have many first place finishes and was a very able seaman.
He was also a merchant marine during WW11 so his love of the ocean and sailing became his dream when he bought Linnet. He loved Linnet and when he sold her, I'm not quite sure he ever enjoyed life again as much as he did when sailing her. A move to Ottawa, Ontario (fresh water lakes) prompted the sale as we were leaving the beautiful Atlantic Ocean. I have a breathtaking black and white photo of Linnet under full sail and the Spinnaker in full force. The picture is approximately 4′ x 5′, the size of a large window pane, and Linnet never looked more beautiful!  Never could there be a boat in the Atlantic Ocean that could cut through the waters like Linnet.  My father who passed away at 83 in 2007 would have been thrilled to know that the CEO of Prada is the proud owner and has refurbished her to her original immaculate condition. May he sail her for many years to come and enjoy this most exceptional yacht!  May Linnet sail the seas forever!"
"I thought you might also like to have a photo of my parents, Niles and Betty Hynes. My Mom was as much in love with Linnet as my Dad. She always entertained on board and was known for her delicious lobster sandwiches and famous potato salad. She never missed a race and was integral to the many wins and memorable times they shared on board.
Wonderful words from Charlotte Liana Heaney (Hynes).
Argentario Sailing Week 2018
Designer:
Nathanael Greene Herreshoff
Type of Boat:
New York 30
Rig:
Gaff Cutter
Year Built:
1905
Built By:
Herreshoff Boatyard, Bristol, Rhode Island, USA
LOA m / ft:
13.25m / 43'6"
LOD m / ft:
LWL m / ft:
9.1m / 30'
Beam m / ft:
2.65m / 8'7"
Draft m / ft:
1.92m / 6'3"
Yard No:
Sail Stats
Sail Area: 91.5 sq.m / 984sq.ft Sail No. 10
Construction:
Other:
Displacement: 8 tons.