Yacht: Leopard of Falmouth
Submit Information on this Yacht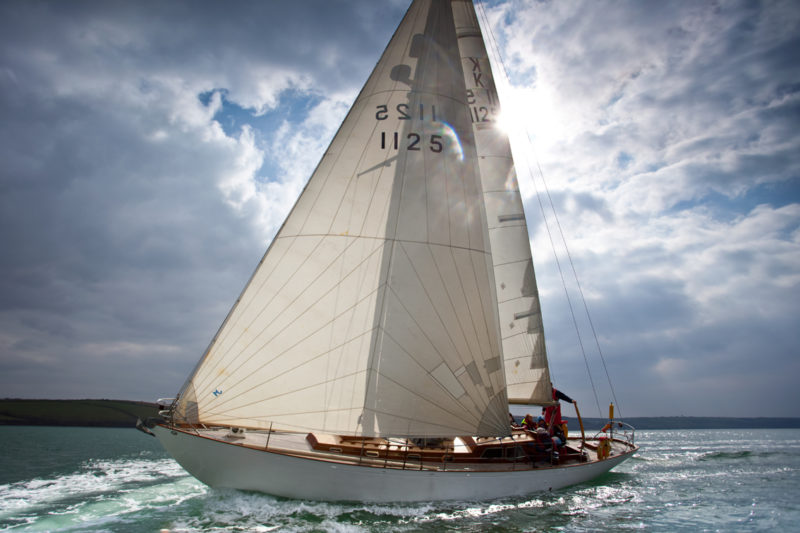 Leopard was one of five Morgan Giles 43s built for Britannia Royal Naval College at Dartmouth in the late 1950's. Intended to be used as a sail training vessel for the cadets at the college, the design brief was for superb yachts with outstanding sea-keeping abilities.
Leopard herself was built in 1959, and along with the other four Dartmouth yachts – Pegasus, Martlet, Wyvern, and Gryphis – she was based there for over twenty years. Two other Morgan Giles 43s – Galahad and Gawaine – were based in Plymouth.
In the late 1960s concerns about the large sail area carried by the Morgan Giles 43s led to their masts being shortened by eleven feet or so, and the booms by three feet or so. The Dartmouth yachts were finally all sold in the early 1980s.
Leopard – becoming  Leopard of Avon – passed to a partnership of two owners who kept her in Salcombe where she became a familiar sight. They also cruised her far and wide, from Scandinavia to Spain.
Over the years, literally thousands of naval personnel sailed on the Morgan Giles 43s, inspiring respect and admiration for the superb yachts that they are. Even today it is difficult to tie up anywhere without someone coming forward saying, "I know that yacht…"
Come the Millennium, Leopard – like most of the other Morgan Giles 43s – was getting a bit tired after 40 years of active service. She was bought by a specialist traditional shipwright concern and given a thorough refit. During the refit the sailing school, Select Sailing, became involved and in due course bought Leopard.
History courtesy of Morgan Giles Yacht Register
Was part of 'Select Sailing' run and owned by Chris Sinclair (RYA Yachtmaster).
Subsequently sold.
Designer:
Morgan Giles
Type of Boat:
MG43
Rig:
Bermudan Sloop
Year Built:
1959
Built By:
LOA m / ft:
12.9m / 42' 4
LOD m / ft:
LWL m / ft:
9.2m / 30' 2
Beam m / ft:
2.9m / 9' 6
Draft m / ft:
2.1m / 6' 11
Yard No:
Sail Stats
Construction:
Other: