Yacht: If
Submit Information on this Yacht
Timeline
1930-32 – Owned by Halfdan Ditlev-Simonsen, Fredrikstad, Norway.
1932 – Sold to Colonel FH Cleaver from the UK who owned her until 1938.
1938-1966 – Owned by Thomas Crosbie, Cork, Ireland. (1st engine installed in 1954)
1966-1973 – Thomas Rose
1973-2000 – Owned by Arthur Shirley, Thanketon, Scotland where 'IF' spent 27 years in his garden as decoration!
2000-2016 – Owned by Peter Wilson, Aldenburgh, UK. She was relaunched in 2001 in time for the America's Cup Jubliee and since she has competed in the following:
2002 Helsinki
2003 La Trinite'
2004 Geneva
2005 European Worlds Flensburg
2006 European Worlds Lake Constance
2007 European Worlds Clyde
2008 European Worlds Norway
2016 – Owned by Tom B K Knutsen, Oslo/Fredrikstad, Norway.
"…….As a traditional one-design racer my interest in sailboats turned 180 degrees 1,5 months ago when being shown HRH King Harald's 8mR "SIRA" NOR-33 under full optimising.
2 weeks ago I inspected and purchased the 8mR "IF" (GBR-27) in Aldeburgh, UK in order to bring her back to her origin hometown of Fredrikstad and Hankö, Norway after her upgrading and optimisation to racing condition. As you may know, the 8mR World Championship will be arranged st Hankö, Norway 10. – 20. August with 30-40 boats expected to participate", – Tom Knutsen, January, 2017.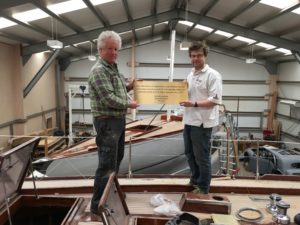 If was restored and optimised at Aldeburgh Boatyard for racing and more photos from 2017 can be seen below.