Yacht: Hoshi
Submit Information on this Yacht
'Hoshi' is a Japanese name for 'Star of the Sea'.
Launched in Gosport June, 1909 at the Camper and Nicholsons Shipyard.
"In 1949 Hoshi was owned by Chunky Duff in Birdham Chichester. Chunky set up the marina there. My mother (aged 12) helmed her across the Channel to Honfleur in a gale!" Myshkin Clarke Hall.
Around 1951 she was owned by the Island Cruising Club, Salcombe and kept for about the next 40 years. During her cruising she usually hosted up to 12 passengers – skipper, mate, cook and up to 9 ICC members.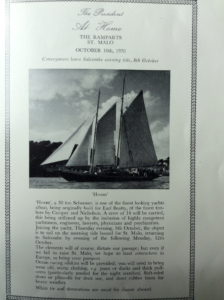 Hoshi was in the Classic Boat magazine in October, 1995.
2008 – Under complete restoration by Guy Ribadeau Dumas (Ribadeau website) and Chantier du Guip in Brest for a launch in 2010.
Designer:
Charles Ernest Nicholson
Type of Boat:
Rig:
2 Masted Schooner
Year Built:
1909
Built By:
Camper & Nicholsons, Gosport, UK
LOA m / ft:
29m / 85'
LOD m / ft:
22m / 72'
LWL m / ft:
15.25m / 50'
Beam m / ft:
4.35m/14'25"
Draft m / ft:
3m / 9'8"
Yard No:
183
Sail Stats
Sail No: 1887
Construction:
Mahogany planking on grown oak frames. Solid teak deck on oak beams.
Other: