Yacht: Gluckauf
Submit Information on this Yacht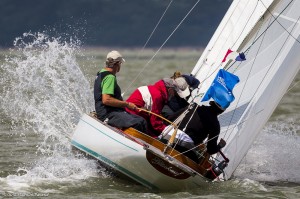 The history of Gluckauf, meaning 'Good Luck', has not been easy to trace. At least 4 yachts of this name were built which suggests that her original owner was a "30's" fanatic. She was based in Flensberg in the 1970's as 'Diana' before being renamed 'Kuky' and sheathed in yellow GRP sometime prior to 1993 when her previous German owners acquired her. At that time she had been re-decked but photographs show her being transported by tractor on an ancient trailer with much of her centre structure missing and with her lead keel strapped down beside her! Unlike so many yachts of her type, Gluckauf has no iron frames or floors (and no associated galvanic action!). The original owner was a mine owner – Gluckauf although there is no exact translation was a term of greeting exchanged by opposite shifts at the pit head – 'Good Luck on your shift – hope you come up again. (quite appropriate really!)'
The previous owners began restoration in March 1994. From a detailed photographic record of the restoration the GRP sheath was removed, the hull splined, the centre structure rebuilt, keel refitted and a replacement rudder made. She was re-launched in Bodenzee in August 1996 and now races with a modern rig.
Gluckauf was bought by the present owners in the Spring of 2002 and was trailed back from Germany behind a Land Rover Discovery. At about 2.5 tonnes displacement she can be towed legally using an over-run braked trailer which is a great practical advantage although negotiating country lanes with a 38' load has it's moments!
Gluckauf possibly got her first taste of the open sea in 2002 and she obviously enjoys it. She is a delight to sail, being very responsive and with deeper bow sections and narrower counter is less prone to slamming than a Dragon. She is, however, still a sailing submarine and snorkel and goggles are advised, particularly if you are nominated foredeck hand!
Information courtesy of the BCYC website
Designer:
Henry Rasmussen
Type of Boat:
30-Square Metre
Rig:
Year Built:
1929
Built By:
Abeking & Rasmussen, Lemwerder, Germany
LOA m / ft:
11.78m / 38'6"
LOD m / ft:
11.78m / 38'6"
LWL m / ft:
7.65m / 25'
Beam m / ft:
1.96m / 6'4"
Draft m / ft:
1.65m / 5'4"
Yard No:
Sail Stats
Construction:
Carvel construction Aluminium Mast
Other: