Yacht: Freda
Submit Information on this Yacht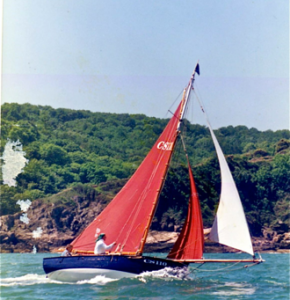 Built for Captain Sam Randall.
Restored in 1994 at Baltic Wharf, Totnes by Earl de Blonville FRGS, of Royal Dart Yacht Club.   She had a new boom, lengthened mast, bowsprit and metal bumpkin, with all new standing rigging, with deadeyes, as well as iron spreaders above the hounds.   All new wooden blocks and running rigging, with new mainsail, jib and tow foresail by Chris Spencer Chapman of McKillop Sails.   She kept her original rear fish deck while the bitts and tiller were replaced with Devon oak, grown to shape.
Freda was Queen of the River, and led the Parade of Sail, during Dartmouth Festival 1995, being the oldest boat on the Dart.   She won the Concours d'Elegance at Plymouth Classics 1996, competed successfully in the 1996 Classics at Looe, Falmouth and Dartmouth.   At Looe and Falmouth events, storms reduced the fleets and Freda was one of few that finished.   She was third in Falmouth and Looe.   Her owner sailed her single-handed to both events and raced there with a scratch crew.   In 1997 she won the inaugural Brixham Working Boat Classics, starting last over the line, overtaking the entire fleet and winning by a country mile, proving the excellence of Dan Hatcher's original design.
Designer:
Dan Hatcher
Type of Boat:
Itchen Ferry
Rig:
Gaff Cutter
Year Built:
1890
Built By:
Fay of Northam
LOA m / ft:
10m /33'
LOD m / ft:
5.6m/18' 6"
LWL m / ft:
5.4m/17'9"
Beam m / ft:
Draft m / ft:
Yard No:
Sail Stats
Sail area: 47m2 / 506 sq.ft
Construction:
Pitch pine planks, copper fastenings to lightweight oak frames. Traditional canvas-topped deck over pine planks. Still has her original aft 'fish deck'. Inventory: Gaff main with ash hoops, loose footed jib on Wykeham Martin; Staysail on Wykeham Martin Tow foresail (decksweeper) jackyard topsail square-topped. Steel standing rig to deadeyes and lanyards. All running rig through ash and bronze blocks. Mainsail carries original Cowes fishing registry number.
Other:
"Inventory: Gaff main, loose footed, jib on Wykeham Martin, Staysail on Wykeham Martin, Tow foresail(decksweeper). jackyard topsail.