Yacht: Ester
Submit Information on this Yacht
Designed and built in 1901 by renowned Swedish engineer Gunnar Mellgren.
Website: ester1901.se/
"Ester was built during a period of intense innovation within yacht design and may be regarded as an exceptional boat due to the specificity of her purpose and consequent extreme design.
In 1901, Gunnar Mellgren was assigned the task of drawing a boat to race against Finland and defend the Tivoli cup. He created something both beautiful and unique. That year, the Finnish boating magazine Frisk Bris wrote that Ester was a very strange phenomenon and one of the most beautiful yachts created. She retained Sweden's hold on the Tivoli Cup and went on to race very successfully throughout Sweden.
That summer, Ester earned herself a reputation for perfect shape and great ability. At one point, during a later season, she had won all twenty nine races she had entered. This formidable reputation travelled as far as Gothenburg where many boats were disinclined to engage in the futile race for the Röhss Cup, which Ester consequently won.
She also won SS Aeolus' distance race, all the races in the Gothenburg Regatta, two races in Norway and the new Gothenburg Yacht Club triangle sailing. It has been said that when Ester registered to race, the result was sometimes declared before the start. For many years, she was the fastest boat of her size in Sweden.
In 1915, Ester disappeared from all registers and only re-appeared in 1933, worn out, renamed Brita and gifted to Örnsköldsvik SS (sailing organisation). Her last results are from the midsummer regatta at Ulvön in 1937 where she was the first to finish.
An autumn evening just outside Järvön, a fire broke out onboard Ester and she sank. The crew were able to save themselves in the dinghy but Ester was lost."
There she remained at a depth of 52 metres.
Hellgrens research shows that Örnsköldsviks Yacht Club took the boat in 1933 as a gift from the timber merchant Sven Larsson from Gothenburg. After some renovation she sailed through the canal out to the Stockholm archipelago and then up toward Ulvön and Örnsköldsvik Harbour. Her crew described the old hull as "shiny varnished Honduras mahogany" and recall "scrubbing the decks of teak".
The Yacht Club's ambition was that Ester would become a training ship for the juniors but the younger ones were not interested and in 1934 she was sold to a merchant for 1400 crowns.
He participated in sailing with the boat and won a sailing race around Ulvön in June 1937.
One day – unclear when – there was a fire on board on route from Gullviks Bay To Trysunda. According to an interview Per Hellgren made by a now deceased Firefighter, the fire was extinguished when the boat came ashore at Trysunda. But later that day, on the way to Ornskoldsvik, the boat sank at Normanön and a dinghy was used to take the crew to Ottelandet.
"After 80 years on the seabed – on Thursday 25th June, 2015 Ester was salvaged. Per Hellgren in Domsjö has for many years conducted research on the boat in Gullviks Bay. In 2012, Hellgren used sonar to find the place where the sailboat sank. He then applied to the County Administrative Board on the rights to salvage it – and this week has been diving and his salvage personnel have worked around the clock to raise the boat from the ocean floor.
On Wednesday, she could be lifted ten meters, and at lunchtime on Thursday the boat was secured just below the water surface."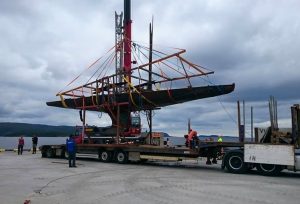 More information at: www.ester1901.se
The Launch – June, 2019
2019 Mediterranean Season
Designer:
Gunnar Mellgren
Type of Boat:
Rig:
Gaff Sloop
Year Built:
1901
Built By:
Plym
LOA m / ft:
15.38m / 50'4"
LOD m / ft:
15.38m / 50'4"
LWL m / ft:
8.9m / 29'2"
Beam m / ft:
3.08m / 10'1"
Draft m / ft:
1.8m / 5'9"
Yard No:
Sail Stats
Sail Area: 110 m.sq / 1,184 sq.ft
Construction:
Constructed as a Finkeel racer
Other: