Yacht: Emilia
Submit Information on this Yacht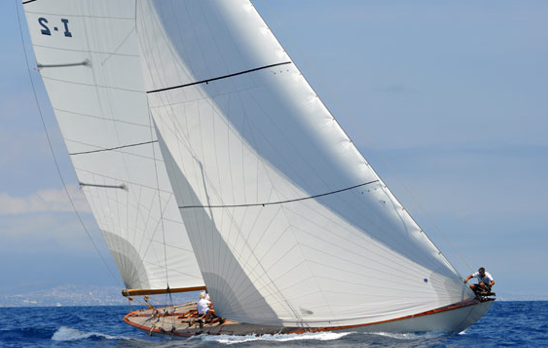 Built according to the Second International Rule.
1930 – 1940 Attilio Bruzzone – name: Emilia – home port: Genoa (Italy)- rig: Bermudan schooner – engine: Bolinden, 30HP.
Originally she was designed (1929) and built to the Twelve Metre Int. Rule and was the present of Senator Giovanni Agnelli to his son-in-law Carlo Nasi. Due to his unexpected departure to South America, the construction was delayed and she was sold before she was launched to Attilio Bruzzone, a wealthy member of Royal Yacht Club Italiano. The original rig was altered to Bermudan schooner. The sail number (I 1), already attributed in 1929, was passed to the other italian Twelve, La Spina. The launch took place on Sept. 16, 1930; Emilia, was Bruzzone's wife. During the 1930s, Emilia was entered in several regattas held between Genoa and Cannes.
1941 – 1975 E. Coppola, a wealthy and well known banker – home port: Genoa, Portofino (Italy) and Cap Ferrat (France).-Emilia stopped racing.
1975 – 1988 Giorgio Trani – home port: Venice (Italy). 1988 – 1998 Adriana Sterzi – home port: La Spezia (Italy). In 1988 she was completely refitted at Beconcini Shipyard in La Spezia; the interior was completely altered to a modern style designed by the well known architect Pinto; she is relaunched on July 28, 1990.
1998 – 2014 april Marco Riccardo Gastaldi and Jacques Sicotte – home port: Genoa (Italy), later Cannes (France)?and later Alassio (Italy). In 2002 the decision was taken to convert Emilia back to the original project of Attilio Costaguta for a Twelve Metre (although the original project had been converted in staysail schooner before launching). The sail plan has been designed by Jacques Fauroux, the wooden mast has been supplied by the Lavazza yard and the conversion of the hull has been done by the owner himself with a group of workers and the aid of the French yard Pasqui in Antibes. The engine has been removed. The interiors have not been completed. At present, Emilia is currently sailing in the regattas for the Twelve Metre class and for the classic yachts in the Mediterranean.
2014 May Jacques Sicotte – home port: Alassio (Italy)
World Championships Results: 2002 in Newport: fifth in the Traditional division 2014 in Barcelona: seventh.
Designer:
Attilio Costaguta
Type of Boat:
12-Metre
Rig:
Bermudan Sloop
Year Built:
1929
Built By:
Attilio Costaguta, Genova, Italy
LOA m / ft:
20.96m / 68'7"
LOD m / ft:
20.96m / 68'7"
LWL m / ft:
17.40m / 57'
Beam m / ft:
3.83m / 12'5"
Draft m / ft:
2.97m / 9'7"
Yard No:
Sail Stats
Construction:
Other:
Displacement: 28 t