Yacht: Eileen of Fife
Submit Information on this Yacht
In 1928 Sir Louis V. Fulton, a rich Scottish industrialist with a passion for boats, asked William Fife III for proposals for a yacht..   Fife presented the plans of Eileen, a 60 ft Bermuda rigged yawl/cutter, very similar to another boat he was about to complete, the Maryk.   Construction started, but Fulton changed his mind and asked for something larger. Fife then proposed a much larger ketch, the 80 ft Eileen, which was immediately accepted by Fulton and delivered in June.   This larger Eileen is still in existence today, has been beautifully restored and sails under the name Belle Aventure.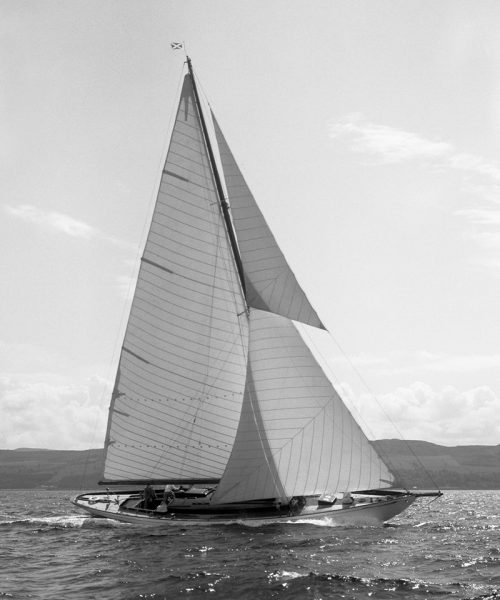 In 1934, Fulton's two sons, James V. and Richard W., ordered their own boat, and accepted Fife's plans for the 60 ft wee Eileen. The boat was delivered in June 1935.   Soon thereafter, upon their father's death in 1934, the two brothers inherited the larger Eileen and put it up for sale.   In the meantime, they had ordered an intermediate size Bermudian ketch, the 70 ft Eilean.   The Eilean has been restored (2006-2009) and now belongs to the Italian watchmaker, Officine Panerai.
The wee Eileen was put up for sale and bought in 1937 by Sir Alexander William Stevens, who sailed her successfully in many Scottish races.   For example in the 1938 racing season, the Eileen participated in approximately 20 races, won nine of them and arrived six times in second place.   The boat was sold in 1948 to William.P. Findlay, and received her R.O.R.C. number 449.   She passed in 1951 to Lt. Commodore Sir Robert Hobart, a member of the Royal Yacht Squadron, who sailed her on the south coast of England, and then, in 1954, to H.A.J. Silley, who transformed the Eileen into a yawl.
The industrialist Gerald Wilkinson bought her in 1962, renamed her Aquarius, and sailed her extensively in the Atlantic and Indian Oceans.   Wilkinson then sold her in Manilla to an American businessman, Richard Bartlett, in 1968.   The boat was renamed Green Beret and very successfully raced throughout Asian waters, like winning the 5th China Sea Race in 1970 by more that 20 hours.
In 1972, Bartlett declared the boat lost in a typhoon, but she reappeared in 1973 on the registry of Lloyds.   The insurance fraud having been discovered, Bartlett committed suicide.
Green Beret/Aquarius was bought in 1976 by Tanaka Hiroko and Paul Mycynek who sailed her for 15 years in the Pacific under the name Ewa Kay.
From 1992 to 2001, the boat was left in Kaua in Hawaii, first as a mobile-home and then in a semi-abandoned state.   Jean-Claude Joffre, a Belgian professional diver and photographer, found her there in 2001.   The Eileen was brought back to Belgium in 2003, to be restored in Oostende at Shipyard Lowyck.   Unfortunately, Joffre died shortly thereafter, and the restoration, which had hardly begun, was interrupted.   The restoration of Eileen has started again, under the current owner Socit Eileen SAS,  (September 2010).
Information courtesy of www.eileenoffife.com
Designer:
William Fife III
Type of Boat:
Rig:
Bermudan Cutter
Year Built:
1935
Built By:
William Fife & Son, Fairlie, Scotland
LOA m / ft:
LOD m / ft:
LWL m / ft:
Beam m / ft:
Draft m / ft:
Yard No:
Sail Stats
Construction:
Other: