Yacht: Columbia
Submit Information on this Yacht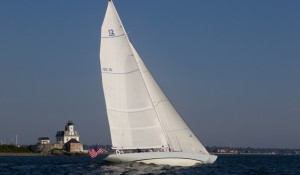 1958 saw the first America's Cup challenge using the twelves. Columbia, being Stephens' Design no.1343, narrowly pulled ahead of the older Olin Stephens design, Vim, (no.279) in the final weeks of qualifying and went on to successfully defend the America's Cup against the British challenge, Sceptre (4-0).
The reverse-transom design to Columbia represented another step towards the more modern racing look.   After leaving the US, Columbia raced and chartered in Europe where she was owned by Bernard Pollet between 1985 – 1998.   During these years she was handsomely fitted out with teak decks and gracious accommodation.
In 1998 she returned from the south of France to Newport, R.I. and since has gone through an extensive refit and improvements under the ownership of Alain Hanover.
Designer:
Olin J Stephens
Type of Boat:
12-Metre
Rig:
Year Built:
1958
Built By:
Henry B Nevins Yard - City Island NY
LOA m / ft:
21.15m / 69' 8"
LOD m / ft:
21.15m / 69' 8"
LWL m / ft:
14m / 45' 10"
Beam m / ft:
3.55m / 11' 9"
Draft m / ft:
2.73m / 9' 6"
Yard No:
1343
Sail Stats
Sail area 1,846 sq. ft. / 173 sq.m. Sail No. US16
Construction:
Other:
Displacement: 63,200Ibs