Yacht: Cheveyo
Submit Information on this Yacht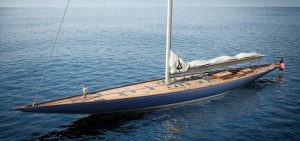 Cheveyo is steeped in rich history, built to the Ranger 77B design.   This is one of the original series of six designs submitted by Starling Burgess and Olin Stephens to Harold Vanderbilt for the 1937 America's Cup defence.
In 1936, each of the six Ranger designs was extensively tank tested by Burgess and Stephens to select the optimum hull-form to defend the America's Cup against the challenger Endeavour II, designed by Charles Nicholson.
Vanderbilt selected the 'C' version because it was found to have the best potential for racing solely in the sheltered waters off Newport RI. The 'Super J' Ranger was thus born, and went on to triumph decisively over Endeavour II in the 1937 series.
The Ranger 77B version was identified as the clear star.
For 2012, S&S and Spirit Yachts have further evaluated the Ranger design series. The prestigious US-based design house conducted an in-depth survey of all of the original Burgess/Stephens J-Class lines in their library. These designs were optimized for two variables: Spirit Yachts' advanced wood/composite construction techniques as well as for the more exposed conditions of today's Classic regattas.
Information courtesy of www.jclassyachts.com
Designer:
William Starling Burgess
Type of Boat:
J-Class
Rig:
Year Built:
Built By:
LOA m / ft:
42.4m / 139'
LOD m / ft:
LWL m / ft:
Beam m / ft:
6.4m / 21'
Draft m / ft:
4.57m / 15'
Yard No:
Sail Stats
Construction:
Other: