Yacht: Bolero
Submit Information on this Yacht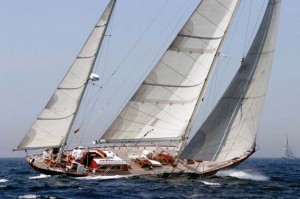 Built for John Nicholas Brown who was the undersecretary of the US Navy and the Vice Commodore of the New York Yacht Club.
She was designed by Olin Stephens in 1946 and was design Number 711.    She won the 635 mile Bermuda race in 1950, 1954 & 1956 setting a new record, unbeaten until 1974.
Found in 1989 by Gunter Sunkler in the weeds of a canal in Fort Lauderdale.   She was restored by 1995.
Currently (2009) undergoing a restoration/refit at Rockport Marine.
"Seen sailing up Long Island Sound off Black Point…. looking proud" 05/09/2015 – Gregg Cook.
"……still owned by him(Capt Nicholas Brown). In the summer she is in Newport and this weekend she was at Ocean Reef in Fla", Ellen O'Donnell Rankin.
Designer:
Olin J Stephens
Type of Boat:
Rig:
Bermudan Yawl
Year Built:
1949
Built By:
Henry B Nevins Yard - City Island NY
LOA m / ft:
22.4m / 73' 6
LOD m / ft:
22.4m / 73'6"
LWL m / ft:
15.5m / 51'
Beam m / ft:
4.35m / 15' 1
Draft m / ft:
2.8m / 9' 6
Yard No:
Sail Stats
Sail area: 2,480 sq. ft Sail No. US 134.
Construction:
Double layer of cedar and mahogany laid on white oak frames. There are special bulkheads designed to be removed for regattas. One of the earliest boats to use aluminium masts.
Other:
Displacement: 50 tons