The latest news
Designer: William Maxwell Blake
William Maxwell Blake (WMB), the son of William Aston Blake of Bramerton Hall, and Emily Mary Ready, daughter of the Reverend Ready of Hickling Broad Norfolk, was born in 1874 in Shadwell Heath parish of East London, where his father was rector. The Blake family lived in various parishes in England before settling in St Johns Road in Woodbridge when the senior Blake was appointed chaplain to St Audreys mental hospital.
WMB was one of five children, four boys and a girl, and he and his brothers all went to the Woodbridge Grammar School. At age 16, WMB was apprenticed to AV Robertsons boatyard as he was, from his earliest years, a lover of the Deben River and sailed various local craft, coming to know every inch of the river. In order to qualify as a naval architect, WMB had to study engineering. So he, his mother and some of his family, moved to Wivenhoe in Colchester, where he met my mother, Gertrude Bartlett. When he qualified, WMB got a job in Singapore where he was naval architect to the firm of Riley Hargreaves. Returning to England in 1906,WMB married my mother and the couple went back to Singapore , where I, Kathleen was born in 1910.
In 1912 WMB was employed by Riley Hargreaves as manager of the shipyard and timber sawmill at Tanjong Rhu, then a remote isthmus on which boats and small craft, both native and European, were built and launched. In 1914 this firm was taken over by United Engineers. The temperature in Singapore , situated on the equator, is marvelous; one can enjoy outdoor life and swim in the sea and salt-water pools all year round. Thus the busy round of boat building continued in and around the small coastal streams and at the shipyard and slipway. The outbreak of war in 1914 did not change things for WMB, his wife or daughter, until the mutiny of the Indian Sepoy Regiment stationed at Tanglin and Alexandra barracks broke out in 1915.
Shortly after World War I ended, WMB and some other keen sailing friends in 1919helped to revive the Singapore Yacht Club, based at the shipyard at Tanjong Rhu. At about that time, my father created a fleet of One Design yachts termed the A-Class. By 1920 my father was due for long leave and I was ready for school, so we returned to England, to Southampton and visited my grandmother. A Singapore friend lent us his holiday cottage at Fawley in Hampshire and my father took part in all the local sailing until the winter of 1920 when he was due to go back to Singapore. He came toEngland again in 1925 and sailed at Cowes in Monsoon, a six-metre yacht made of teak and was built at the Tanjong Rhu shipyard. It was shipped to England as deck cargo on board a British freighter. WMB won several prizes with 'Monsoon' including a very handsome trophy we still have in the house. There are photographs of the yacht as well, when she was 'dressed overall' at Cowes . 'Monsoon' continued to be sailed successfully by her new owners after WMB returned to Singapore.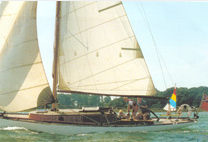 In the meantime the SYC was going from strength to strength, with a growing membership and a growing fleet of boats. WMB managed to negotiate with the Singapore Harbour Board (now the Port of Singapore Authority or PSA), so that a permanent site could be established for the Club to be near the docks. All continued well in Singapore until 1929 when the slump came and rubber and tin, which were Malaya's main products, fell to 6 pence in the pound. Many top men, including my father, were replaced by lesser-paid staff. Consequently WMB, with his wife and daughter, decided to return to Woodbridge, where he had been so happy as a boy, close to his beloved Deben and all that was associated with it. Before he left Singapore, he was given many handsome presents by the Tanjong Rhu shipyard at a farewell ceremony.
In 1930 WMB's daughter Kathleen married to a family friend working in Singapore, Maxwell Heron Matheson. The couple left England and went to live in Singapore . Unfortunately WMB's wife Gertrude became psychologically depressed, partly because she did not want to live in Woodbridge. So with much sacrifice on the part of my father, they moved to Felixtowe and lived in a flat in Queens Road. However WMB continued to design boats and became involved with the Newson Brothers of Felixtowe Ferry boatyard. Here he helped to build fishing boats and designed two pleasure boats named 'The Deben Viking' and 'The Orwell Viking' which took holiday makers in the summer. In the winter these super vessels were used for fishing by the Newsons. Eventually I believe they were used for the evacuation of Dunkirk.
Sadly in the beginning of 1939 WMB became ill and was diagnosed as having cancer. He was cared for by a very kind doctor and nurse; his wife having become neurotic and troublesome. His daughter arrived in England on leave with her husband and family just in time to bid him a final farewell in June of that year. He died a few days later on 19 June 1939 and his funeral was arranged to take place at St Johns church, Felixtowe by the then Rector Cox. A large congregation attended the service including all the boat fraternity and local friends. WMB's last wish was to be buried in Woodbridge. So we followed the hearse to the new cemetery in Woodbridge. His granite tombstone bears a suitable inscription and can still be seen today.
Further information on the designer in this 20 minute film by Classic Yacht TV of his design Mirelle.