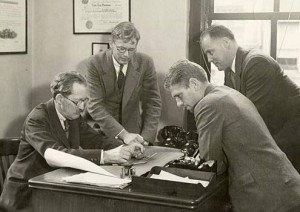 Olin J. Stephens and Roderick Stephens, Jr. entered the marine industry at an early age – Olin apprenticing in yacht design under Phillip Rhodes, and Rod working at the legendary Nevins Yard in City Island, New York. With his father's backing, the 21-year old Olin entered into a partnership with the already successful yacht broker Drake Sparkman, and Sparkman & Stephens, Inc. was formed.
But the success of the company was far from assured. In fact, just months after opening for business, the financial crisis of the Great Depression swept the global market. In spite of this, the Stephens' father ordered a design for a racing yacht from the young firm – a yacht named Dorade. The gamble paid off. As her first major test, Dorade won the much-publicized 1931 Trans-Atlantic Race. That victory launched the design reputation of Sparkman & Stephens – and set a course for the firm that would last more than half a century. Together Olin and Rod Stephens formed a team that literally changed the face of yachting forever, creating good solid racing and cruising designs that helped to popularize the sport.
Since the establishment of Sparkman & Stephens, the firm has successfully completed over 2600 designs and related assignments in the pleasure, commercial and military sectors.