The latest news
Designer: Gustaf Estlander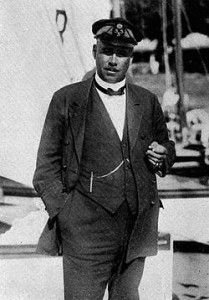 In 1898, Gustaf Estlander graduated as an architect from the Helsinki Polytechnic Institute. He founded the architectural firm of Estlander & Settergren, which in 1903-1915 designed a score of large apartment buildings in the booming capital city of Helsinki.
When Estlander turned full-time yacht designer in 1914, he had already drawn 60 sailboats. He gained a reputation for light, radical boats, such as the double-hulled Flamingo of 1899. He made his international breakthrough in 1917 at the helm of his 22 sq.m. Skerry Cruiser Colibri, trouncing all competitors at the Sandhamn regatta in Sweden. He quickly gained a large number of design commissions from clients in northern Europe.
In the post-war years of 1921-23, he was chief designer and owner of the Pabst yard near Berlin, Germany. His 22, 30 and 40 sq.m. skerry cruisers were successful on the inland lakes of northern Germany. His own enormous 150 sq.m. skerry cruiser Singoalla reached 14.1 knots on a race from Kiel to Travemünde on the Baltic Sea, according to Uffa Fox.
Moving on to Sweden, Estlander obtained Swedish citizenship to be eligible for designing a Swedish entry for the 6mR Scandinavian Gold Cup. His creation May Be won the Gold Cup in the USA in 1927 for Swedish shipping tycoon Sven Salén. His Gold Cup winners include the later Swedish entries Ingegerd and Ian.
In the 1920s, Gustaf Estlander reached international fame as a yacht designer, obtaining six-metre commissions from as far away as Cuba and Singapore. In total, more than 1000 yachts were built according to his drawings. Of these, 21 were six metre yachts and 8 were eight metre yachts. His 8mR design Cheerio represented Finland at the 1936 Summer Olympic Games in Kiel, Germany. Estlander had himself participated in the 1912 Olympic regatta in Nynäshamn, Sweden, gaining a 4th place skippering his Fife-designed 8mR yacht Örn. Gustaf Estlander died at the height of his career, at only 54 years of age. A young employee at his design studio, Knud Reimers took over and continued Estlander's business, at 24 years of age.