The latest news
Designer: Frederick Robert Parker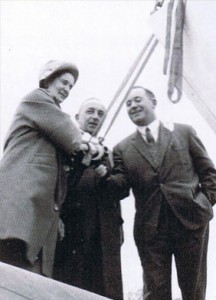 Fred Parker belongs to that great generation of yacht designers who served their apprenticeship before the war. After 1945, he established a solid reputation for sail and motor craft – both racing and cruising. Apart from smaller classes such as the Sterte and Warsash One Design and some motor cruisers, his were largely individual designs, like those of his mentor Frederick Shepherd. The motor yachts were practical and attractive vessels but it is for his fast sailing cruisers that he will long be remembered. Paraphrasing John Leather, to see Maybird beating to windward "on a breezy summer morning off the Dorset coast (is) to appreciate the work of an artist backed by a long tradition".
Frederick Robert Parker (FRP) was born in 1912 to a Hampshire family well known in yachting circles. In 1927, FRP started a five year apprenticeship with the Berthon Boat Company in Lymington where his father was a foreman shipwright. Between 1932, on completion of his apprenticeship, and 1934 he continued to work at Berthon on design and detail drafting. In 1934, he was taken on as a pupil by Fred Shepherd. The young draftsman soon gained Shepherd's confidence. It appears to have been a good example of collaboration between old and new designers, and a new style of able, seagoing offshore yachts began to emerge. FRP continued to show promise and soon became a valuable member of Shepherd's office understudying his boss and injecting youthful enthusiasm into the business. This combination of talents led to a number of very beautiful cruising yachts like Maybird and her big sister, Amokura.
When Shepherd retired in 1939, young FRP was swept up into the war effort as an Admiralty draftsman and after the war he opened his own yacht design practice in Poole and latterly Warsash on the river Hamble. FRP became Moody's favoured naval architect during the 1950's and 1960's and designed more than 30 individual yachts that were built at Swanwick. They were mainly of timber construction. FRP designed Swan Dancer – the last wooden boat to be built at Swanwick in 1970.
By the mid 1960's, GRP yacht construction was steadily increasing and to quote John Leather, FRP "…was not really in sympathy with plastic". By the mid 1970's FRP's star was declining under an onslaught of younger designers influenced by offshore racing rules which allowed excesses at the expense of comfort and safety. I have discussed FRP with Graham Moody who worked both with and for him and Graham explained to me that FRP was really "set into the wood/steel era of boatbuilding. His experience had been in these materials and he did not have formal training or hands on experience in GRP". He retired to his Surrey home during the late 1970's.
FRP died in the summer of 1984, aged 71.
Information courtesy of the Maybird website.