The latest news
Designer: Francois Camatte
In 1920 François Camatte was hired by shipbuilder Despujols in Arcachon who specialised in motor yachts.
In 1925 he left to go to Antibes where he started working in the shipyard managed by Henri Rambaud. There he had a work accident on the production floor and lost an eye. In Antibes he met naval architect Jean Quernel who will influence him in the choice of his career. He then completed his studies and designed the Queen Mary, a cruiser that offered passengers a tour in the Bay of Cannes.
From 1925 Camatte started designing for himself and drew up plans of his five metre racing sailboats M.O.C.A.T. The very same year two of his boats, 'Dalhia' and 'Bouscarlette' stood out at the Cup Fiferlin in Menton. Thanks to this success Camatte could start a career designing world class sailing boats.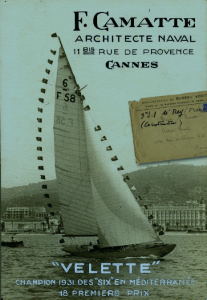 His Sailboats
Mr Crestin of the Société des régates de Cannes ordered his first 6mJI, 'Pampero' with Camatte. Other 6's include 'Thema' from 1936 that won fourteen first prizes. Between 1929 and 1950 Camatte designed around 10 8mJI. The first was built for Mr Frederick H Prince. She beat the Fife 'Sirena' in Nice.
In 1931 Virginie Hériot ordered an 8-Metre boat, 'Aile VII' to win back the French Cup lost to the English in 1930, to no avail. His most famous 8mJI was 'France', built in 1935 for Mr Rey by Chiesa shipyard in Cannes. The boat won the French Cup in 1937 in Ryde after seven years of British hegemony, where she beat the Fife 'Felme'. The Yacht Club De France sent their congratulations to Camatte on the 20th July, 1937.
However the Cup was lost the following year and it was not until 1949 that another boat designed by Camatte won it again. Named 'Gaulois' she had been built in 1938 by Bonnin shipbuilder for Mrs Léon Cotnareanu. In February, 1949 in Cannes 'Gaulois' and two other boats designed by Camatte competed to be selected for the French Cup, 'Moira' and 'Silk'. 'Gaulois' was the best and sailed to Genoa to compete with 'Miranda III', designed by Costaguta in 1938. In Genoa 'Gaulois' won three times in four rounds recovering the French Cup and crowning Camatte.
Source: www.francoiscamatte.fr