The latest news
Designer: Clinton Crane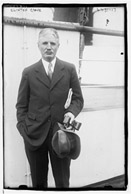 Clinton H Crane had a somewhat unusual career. Beginning as an amateur naval architect, designing for himself and his friends and relations, he then established a yacht-design firm that he operated for around 12 years, and then left the profession to run the family mining business full-time. He came back 10 years later to his passion of yacht design; part-time and as an amateur. He was as interested in motor racers as he was in sailboats, both small and big, and designed both Universal Rule and International Rule boats with talent between 1896 and 1958. In the meantime, he worked hard to bring together the world's yachting authorities.
A Harvard engineering graduate in 1894 and a student at the University of Glasgow from 1897 to 1898, where he met the French naval architect Jacques Augustin Normand – who introduced him to design of high-speed torpedo boats – Crane ran his design firm between 1900 and 1912. He designed the schooner Endymion (1900), which set the record for the Atlantic crossing in 13 days, 8 hours; a record beaten in 1905 by Atlantic. The sudden death of his father in 1912 obliged him to take over the reins of the family consortium, of which he was chairman until 1947, although from 1922 on he was a part-time naval architect.
It was against this backdrop that he designed Weetamoe in 1929, assisted by the Cox and Stevens office; his 'J' narrowly failed to win the final selection for the Cup defense. In 1937, he designed the International 12-Metre Gleam, which took part in the selections for defense of the Cup in 1958. He died soon afterwards, on 1 December 1958.
Information courtesy of www.sailingnetworks.com