The latest news
Designer: Ben Lexcen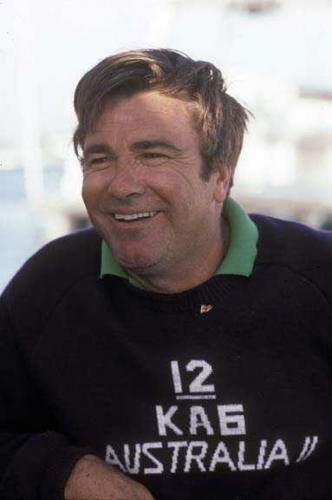 Benjamin Lexcen was born on 19 March 1936 at Boggabri, New South Wales, only child of Edward William Miller, labourer, and his wife Ethel Doreen, née Green, both born in New South Wales.  He was named Robert Clyde.  After his parents abandoned him as a child he stayed briefly at Boys' Town, Engadine, before going to his grandfather at Newcastle.  Bob attended Newcastle East Public and Newcastle Boys' Junior High schools.  After only five years of formal schooling he left and undertook a fitter and turner's apprenticeship with the railways.  In the mid-1950s Miller(Lexcen) moved to Sydney and formed a lasting friendship with the family of his sailing mate Carl Ryves.  Miller built a catamaran of his own design and took up sail making.  A few years later a master boat-builder, Norman Wright, invited him to his Brisbane boatyard to run a sail loft.  Miller was treated as part of Wright's family.
A fall from a mast put Miller in hospital for some months in 1958.  Wright made him a drawing board and Miller put down his ideas for a radical three-man 18-foot skiff.  The product, Taipan, performed well enough to encourage him to design a second, more radical, 18-footer, Venom, with which he won the world championship in 1961.  He married Dorothy Muriel Green, a ledger machinist, on 24 November 1962 at Scots Presbyterian Church, Clayfield, Queensland; they divorced in 1969.
Craig Whitworth, a member of Venom's crew, joined Miller in setting up a sail loft, Miller & Whitworth Pty Ltd, in Sydney in the early 1960s.  Whitworth's steadying hand complemented Bob's larrikin style.  They were jointly named Australian Yachtsman of the Year for 1966-67 because of their success in the International Flying Dutchman class.
Miller designed yachts including the 58-foot sloop Apollo for Alan Bond, and his Contender-class prototype was chosen to form an international single-handed class.  When he designed Ginkgo for Gary Bogard in the early 1970s, Miller adopted a different approach from other contemporary designers with a very clean-looking, easily driven hull shape and relatively low sail area.  Ginkgoand its sister-ship, Apollo II, had successful careers, and two smaller derivatives Ceil III and Rampage won handicap honours in the Sydney to Hobart race.  Subsequent designs used the same concept but were not as successful.
In 1972 Miller represented Australia in the Soling class at the Olympic Games at Munich, West Germany.  His partnership with Whitworth ended.  On 2 April 1976 at the register office, Isle of Wight, England, he married Yvonne Denise Miller, formerly Wise, née de Low, a 55-year-old divorcee with two children.  Exasperated by the fact that his name was still being used by Whitworth's business, he changed it by deed poll to Benjamin Lexcen in 1977.
Alan Bond had begun his quest for the America's Cup early in the 1970s with Miller as the designer.  Their 1974 challenger Southern Cross was not a mainstream design, and lost 4-0.  Bond challenged again and Miller—with the young but experienced Johan Valentijn as a stabilising influence—designed the next yacht, Australia.  Although beaten 4-0 the yacht was modified to race again in 1980, losing 4-1.
For the 1983 America's Cup challenge Lexcen produced Australia II, the best example of this freethinking, self-taught designer's potential.  He made a significant improvement to the 12-metre design with an extraordinary inverted, wing-keel shape that paid dividends, reducing drag and improving mass distribution.  Down 3-1 in the final series, the crew recovered to win the America's Cup 4-3 in a thrilling final race, ending the 132-year American domination.  He and the crew became national heroes and he was appointed AM in 1984.  That year he won the Prince Philip prize for Australian design.  Bond, John Bertrand and he had been named Australian Yachtsman of the Year for 1982-83.  Lexcen continued to produce exciting designs, but had no further success in the America's Cup.
Survived by his wife, Lexcen died of myocardial infarction on 1 May 1988 at Manly and was buried in Frenchs Forest cemetery.  Australia lost a designer prepared to look for and try ideas that were outside the mainstream.  His biographer Bruce Stannard described him as a 'forgetful, dishevelled dreamer'.  Constantly active, creative, and possessing an explosive temper, Ben was helped by colleagues who could provide a balance to his energy and impetuous approach to issues.  In 1988 the University of New South Wales created sports scholarships in his name.  He was nominated to the America's Cup Hall of Fame in 2006.
This article was published in 'Australian Dictionary of Biography'
Nationality: Australian
Year: 1936-1988
Boat List:
Australia II