The latest news
Designer: Al Mason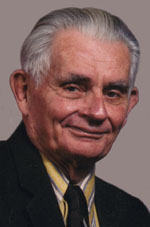 Al's Earliest Years
A native Californian, Al fell in love with boats at a very early age. His earliest pen and ink drawings of boats were done when he was seven years old. One of his first books of detailed boat designs (profiles, lines, accommodations, sail plans, etc.) were drawn in 1926 when he was 15 years old.
Prior to his acceptance at the Webb Institute of Naval Architecture, he had already:
Built a sailing dinghy of his own design while in high school
Published a series of How-to-Build articles in a West Coast boating magazine of his own small boat designs
Designed the 62-foot three-masted schooner California at the age of seventeen. Later re-rigged as a barkentine, California had a long and varied career of her own–as the subject of circumnavigation books, star prop of the TV series Adventures in Paradise, advertising star of United Airlines' Hawaiian vacation brochures, and as a San Diego whale watcher.
Worked part-time and summers for George S. Kneas, Monterey Boat Works, and Wilmington Boat Works, among others, as a draftsman, loftman's helper, and apprentice boatbuilder.


Al's Professional Employment

Following graduation from Webb with a Bachelor of Science degree in Naval Architecture and Marine Engineering, he maintained two parallel careers. Al's day jobs included employment with:

John G. Alden–Boat Hull Designer & Marine Draftsman
Tams, Inc.–Marine Draftsman
Sparkman & Stephens, Inc.–Principal Project Designer
Steelcraft Boats, Inc.–Chief Naval Architect
Sparkman & Stephens, Inc.–Naval Architect
U.S. Naval Academy–Assistant Professor, Department of Marine Engineering
Feadship, Inc.–Naval Architect
Philip L. Rhodes–Project Designer (Naval Architect)
Sparkman & Stephens, Inc.–Naval Architect
U.S. Navy–Naval Architect (Small Craft & Boats)
California Maritime Academy–Assistant Professor, Naval Architecture

Al's Free Time

Throughout his adult life, Al's free time was devoted to designing a wide variety of boats (over 150 in all)–racing hulls, cruising yachts, powerboats, trawler yachts, houseboats, runabouts, sport fishermen, dinghies, launches, workboats, etc.–for construction in wood, steel, aluminum, fiberglass, and ferro-cement.Among his many well-known build-it-yourself, stock,, and custom designs were the beloved Ostkust, Manana, Carinita, Dutch Treat, Sitzmark II, Sitzmark IV, Carolyn, Lotus, Independence, and Harm's Way, to name just a few.

A number of his stock designs also became successful production boats marketed by such firms as Transpac, Joel Johnson, Norge Boats, and Hans Christian.

In addition to designing, Al was a regular member of racing crews for over 25 years, most often aboard one of his designs. During the 1950s, he regularly participated in the Newport/Bermuda, Newport/Annapolis, Off-Soundings, and Storm Trysail races, among others. For many years, he was also a well-known yacht measurer around Long Island Sound for Storm Trysail Club and Cruising Club of America.

The Down Side of Being Well-Known

Unfortunately, there were also some design knockoffs attributed to Al, which he neither authorized nor approved. In almost all cases, the designs were pirated outright, and the first Al knew of them was either through sales advertising or a letter from a disgruntled owner. Fortunately, design privacy did not occur often–word generally spread very quickly that a particular advertised boat was not a real A. Mason-designed vessel, and sales of these bogus boats rapidly declined.

Al's Greatest Accolade

Al frequently mentioned that the greatest praise a yacht designer could receive was the absence of his designs on the resale market. To him, this indicated how pleased the owners were with his designs. Al noted that it was not at all unusual for people to have owned a particular design of his for ten, twenty, even thirty-plus years. In fact, many owners maintain meticulous provenances for these special members of the family, and participate in exclusive rendevous which continue to be held all over the world throughout the year for authentic A. Mason-designed boats.
Information Courtesy of 'THE YACHT DESIGN LIBRARY'
Nationality:
Year: 1911-1995
Boat List:
Marnie