The latest news
Designer: Aage Utzon
About my father
As told by Jørn Utzon (the architect who designed the Sydney Opera House) in a conversation with Bent Aarre:
"My father constructed the first boats in 1918, the year of my birth. The name of the type was Shamrock, a rather special sharp-sterned vessel, an elegant boat that was a marked contrast to the R-boats and cutters of that time. This was true in regard to lines, rigging and weight. Three or four of boats were constructed in Aalborg.
In his boyhood he lived in Hellebæk and used to go sailing from his early years. He also made ship models from an early age. Later he became a shipbuilding apprentice in Elsinore. His interest in boats was not a result of external influence, but stemmed from his interest in nature, a very early trait in him. He also went hunting and was an outdoors man. At the same time he was very dextrous, but was no great student at school, having difficulty reading and writing. His father supported his interests, and he therefore had optimal conditions for developing an independent concept of what the sea was, and what the wind was. Daily he took to the water, sailing and hunting.
The Entire Design
His special interest in sharp-sterned vessels likely stemmed from his conviction that they could be improved, especially as regards their short overhang. He has always taken a keen interest in redesigning and improving. He managed to persuade some people in Aalborg to build the first sharp-sterned boats, and in fact they met with immediate success. They joined in races on both sides of Kattegat and won a lot of trophies.
Professionally, my father was a shipbuilding engineer, who had been educated in Newcastle, England. At the time of my birth he was a manager of the shipyard in Aalborg. He would likely have preferred to sit in a team in a design office and draw lines and fittings. He told me that if I wanted to become a shipbuilding engineer, I might as well forget about making a personal imprint; but if you design yachts, you get the opportunity to work with the entire design. That was what he wanted—he wanted to design the entire vessel.
His boats were constructed by shipbuilders in Aalborg, Randers and Hobro, among other places. On Sundays we often drove around to visit the shipbuilders. Here we became familiar with the mood in the workshops; we took in the smell of the wood shavings and watched the frame timbers standing there. From our home I recall my father lying on the floor while he made full size line drawings. Later I was allowed to lend him a helping hand. It was exciting to witness the way he worked. It was sheer professionalism. He never hesitated, but knew what he wanted.
Simplicity
Father's drawings and line drawings were of the highest quality, and he knew how to do everything involved. He drew all details very exactly, with lines in full size. He did this because he was just as anxious to get a detail of the stern correct as the overall shape of the hull. He did not want a boat-builder or someone else to meddle with his concept, which he wanted to be mirrored in exact form in the boat.
At the same time he was keen on simplification, to discard all useless details. This was due to his relationship with nature. He did not want to own something, but learned from the animals to take just what was needed, and nothing more. Therefore his boats leave an explicitly practical impression when you look closely at them.
Many Friends
I have benefited greatly from the many hours I have spent with my father. He was a pillar of support for me and my brothers in the many instances when we had to make important decisions in life. For me as an architect it has been ideal to have been attached to a large shipyard, where all trades were represented, and large-scale work was carried out. When I was about to draw the Opera House in Sydney, I was not really worried that I had to convert sketches into curved surfaces towering 60 meters, define them geometrically and have them constructed. As a child I had seen huge ship-hulls. My father helped me construct the large-scale models required. Without any specific agreement he made the wooden models. After a couple of days the delicate forms were in the drawing room.
During all his life, my father was closely attached to young people. He was enthusiastic about getting them out in the open landscape. This was instrumental in making him a promoter of the sea-scout movement. Among other accomplishments he made some ship-owners donate boats for the scouts. He himself felt that he had benefited so much from sailing and took a liking to young people."
The master lived in Bøssemagergade in Hellebæk, and the house was evidently not one designed by his famous son, the architect Jørn Utzon. It was a small half-timbered house, thatched, stove-heated and with a strong draught; but its location was charming, right next to the forest. When he was not immersed in his drawings or toiling with coke and firewood, Aage Utzon walked long trips in the forest with his dog.
The doctor had asked whether he really did not get short of breath from these long walks. "No," the eighty-something old Mr. Utzon replied, "Only when I run!" He related the story with a humorous smile. His health was perfect, but, unfortunately as regards his drawing work, his eyesight had begun to fail.
Information courtesy of Utzonphotos.com
Classes that he designed include:
Great Dane 28 (1965) LOA 28′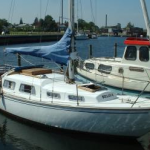 Sagitta 30 (1963) LOA 30′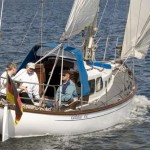 Scan 22 (1966) LOA 21'6″