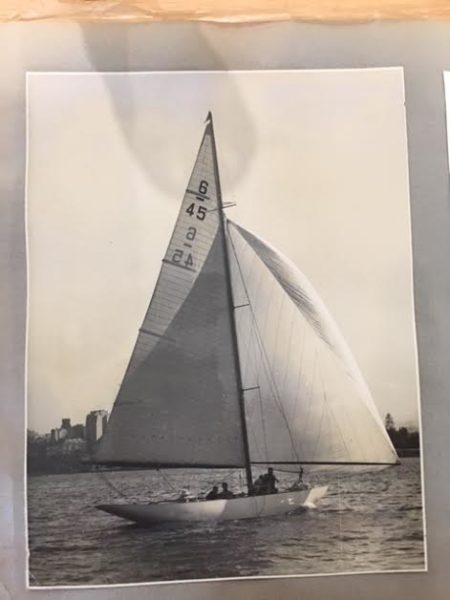 Previously named 'Avenger', she took the name 'Venger' in 1951. She has sailed as part of the Australian 6-Metre fleet for many years.
"Tom Stock, owned and sailed this boat in the late 1940's." Robert Stock
Some Famous Geelong Yachts from The Royal Geelong Yacht Club.
VENGER
There is little doubt that the most outstanding best performed yacht on the R.G.Y.C. register in the post-World War II era was Messrs. Bill and Aurel Smith's beautiful six metre sloop, Venger.
Acquired by the father/son combination in 1954 from Mr. Hedley Ladd of the Royal St.Kilda Yacht Club and skippered by Aurel Smith, Venger won the R.G.Y.C. "A" Class Aggregate four times, in 1955- 56, 1956-57, 1957-58 and 1961-62.
She won the prestigious Geelong Advertiser Trophy for the Club, then an individual yacht, one race event sailed over a windward and return course in Corio Bay at A.N .A. weekend, no fewer than six times in 1958, 1961, 1962, 1963, 1964 and 1965.
She was the only Geelong yacht to ever win the famous Northcote Cup, a perpetual trophy established in 1907 by the then Governor General of Australia, Lord Northcote , for competition among yachts rated up to six metres on the register of recognised yacht clubs in the Commonwealth of Australia . And this she did twice, in 1962 and 1963.
Her most outstanding season was probably that of 1961-62. In that season, Venger won the Northcote Cup, The Geelong Advertiser Trophy , The Howard Hitchcock Memorial Shield for the "A" Class Aggregate, The "A" Class Division of the Williamstown to Geelong race, the H.P. Douglas Memorial Shield (for the greatest number of points in Portarlington races) , two "A" Class events at the A.N .A. Regatta and three "A" Class Club races.
An outstanding performance never equalled by any other Geelong yacht.
Designed by Bjarne Aas of Sweden, Venger is 37'6″ overall, 25 '6″ on the waterline , has a 6' beam and draws 5'4″.
Built by Mr. Griffin, Boat Builder at Church Point in Sydney in 1945, she has Queensland yellow wood ribs, full length aeroplane spruce planks and a teak deck. Her hollow mast towers 44 feet above the deck.
Aurel Smith describes Venger as a good all-weather boat, but an outstanding performer in light airs. When tuned to top pitch and racing in light conditions, the crew found that the yacht went to weather at maximum speed with the genoajust touching the middle cross-tree. And it was the constant task of cockpit hand, John Nielson, to maintain this condition. At times this necessitated easing or bringing in the sheet as little as two inches!
In 1965 Venger was sold to Mr. David Petley of Melbourne. Today she is based at the Royal Prince Alfred Yacht Club on the Pittwater in Sydney where she still races regularly, and, according to Aurel, she still looks a picture.
"Venger" close hauled on the last leg of the course to win the 1962 Geelong Advertiser Trophy for the R.G.Y.C. for the fourth time in six years.
Venger Crew. Geelong Advertiser Trophy, January 28, 1962. Top left: Robert Phillipe
Lower Left, John Shaw
Then, Skipper Aurel Smith, John Nielson , Trevor Collins.