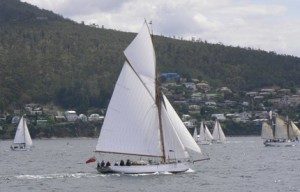 Built for fisherman, George Bridge in 1925, the Storm Bay is named after the source of vast schools of Barracouta and the destination of most fishermen when they set off each morning from Victoria Dock.
She was gaff rigged with topsail, fishing took place while the boat drifted under a double reefed mainsail. The 'couta jig or lure was a piece of white Huon Pine about 6' long, tapered with two big barbless hooks, attached to a linked wire chain, fastened to a 15 foot Sassafras sapling. With no refrigeration, Storm Bay had a wet well made of 4′ thick Huon pine.
Storm Bay ~ a Tasmanian treasure in pictures.
The Bridge family owned Storm Bay from 1925 until 1963, looking after her like a yacht. George's grandson Jim Bridge of Lutana, followed in the family business and fished for 14 years aboard 'Storm Bay' during the 1940's and 50's. Prior to her restoration she was a crayboat operating out of St. Helens, acquiring a wheel house along the way. She was then bought by Tim Phillips of The Wooden Boatshop who restored her to original condition as a sailing vessel.
'I feel quite humble to own a boat as significant as Storm Bay says Tim 'If I eventually sell her I will endeavour to make sure she returns to Tasmanian waters as she is a treasure.'