Commissioned by Director Ole Sundo, a wealthy Danish entrepeneur and named 'Ragna IV' between 1937 to 1951.   She was surrendered soon after the out-break of war and owned by the late Baron Joahn Raben-Levetzau who owned her from 1944-1960.   Between 1952-1965 she was named 'Sabina'.
Amongst the former owners of Orianda are Neil Peart, former drummer of the rock group, Rush.   Orianda was restored in 1988 and attended the Mahon regatta of Menorca in 2005.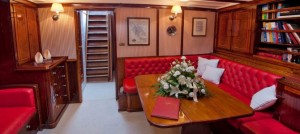 Orianda was being refitted at Tecnomar Shipyards in Fiumicino, Rome. (2010)
For more information check out the yacht's Website
Part of the charter fleet managed by SP Classic Yachts.