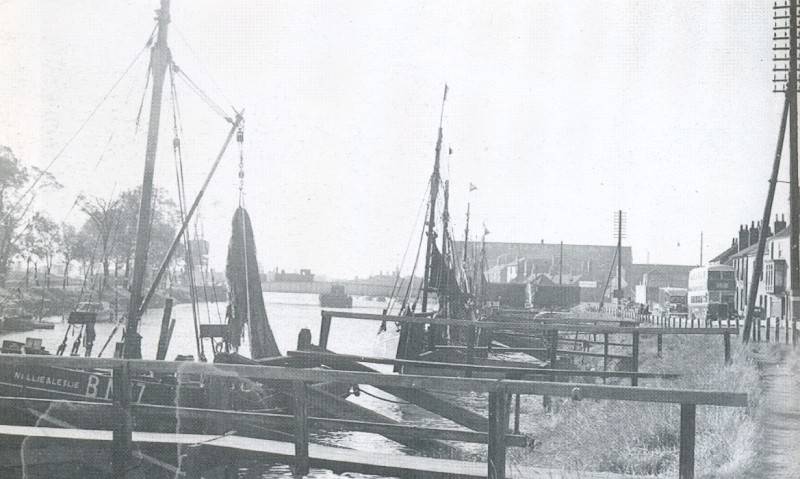 The Nellie & Leslie story begins back in 1911 when a Boston fisherman, Mr Norris, known affectionately by the locals as 'Sweet Tea', commissioned a fishing smack from the Kings Lynn based shipyard of Wolfords, run by Gerald and William Wolford. The ship was completed and made its maiden voyage down to Boston in 1911 to serve Sweet Tea, who named the craft after his two children, Nellie & Leslie.
The boat was used for fishing anything from sprat to shrimp, and made regular trips into the Wash, and up the East Coast towards Grimsby on occasion too, serving Sweet Tea faithfully for over 20 years. Disaster struck the boat when it collided with another vessel in heavy fog in the Wash, and eventually sank. Fellow fisherman Albert Bagley heard about the wreck and decided to rescue the boat, returning her to Boston to patch her up. Albert used the boat from 1932, even equipping her with a Sherman tank engine sourced from GM, used in some of the earliest tanks during the war. "She was the fastest thing on the Wash at the time." recalled Albert's son, Ken, who worked on the boat alongside brother Steven until 1979. "She would achieve over 30 knots and was really well-known both in Boston and further up the East Coast at Grimsby docks."

Her career on the Wash nearing its end, Nellie & Leslie was sold to a businessman from Lowestoft for just £250, and was eventually purchased by a trio of German marine engineers who were looking for an excuse to keep in touch following their engineering studies and were looking for a project on which they could work during their spare time.
As part of their fact-finding mission, the German engineers visited Boston, and met up with both Ken and Steven who remembered their workshop contained a few of the boat's original elements, including the original sails.
"They went absolutely wild!" said Ken. "They were really keen that lots of reclaimed materials should be used, and the idea that their new engine could be supplemented by its original sails delighted them!"
The Germans took the sails back to Bremerhaven and made a final promise to Ken and Steven; they'd return to Boston to celebrate its centenary in exactly the same year that Ken and Steven Bagley's father, Albert, would also have celebrated his 100th birthday.
The sailors kept their promise and sailed into Boston in 2011 with a much transformed Nellie & Leslie — the boat's sale being made on the condition that its name would remain. Nellie & Leslie now boasted a brand new deck crafted in African teak, and a new Mercedes engine with 80hp. 
It's a dedicated pleasure craft, sailing at around 10 knots with seven tonnes of lead replacing the previous 10 tonne iron ballast. Inside, a 10 berth cabin replaced the previous 11 tonne fish hold, and now features a lounge area, galley and bathroom.
"It's a beautiful craft." said Müller. "We wanted to create a craft from which we could see the world, it's a pre-retirement project but also something we can pass on to our children."
The trio left Bremerhaven and sailed to England over the course of three days, being led into the Wash by Ken and Steven to celebrate the craft's anniversary by spending five days in Boston. 
"We fell in love with her!" said Alexander, who made the voyage with sons Vincent & Martin, and Max & Johannes Dellman. "Since buying her and restoring her, we've spent time sailing around the Baltic during our summer vacations.
We really didn't expect such a warm welcome, and we had some really gorgeous weather with beautiful blue skies during the journey, so it really was a pleasure to bring the boat back to its home!"
The sailors were presented with a picture of Nellie & Leslie in her earlier incarnation, and were treated to a tour of Boston including some of the favourite pubs of the 23 fishermen then based in Boston, as well as a trip to the top of Boston Stump to enjoy a panoramic view of the Wash's market town.
"We can't believe how many came to see the boat, and some were even in tears as they'd worked on it or seen it in their youth." said Alexander.