Originally named 'Molita' she was designed by Charles Livingstone for his own use. Livingstone was a member of the English Committee of the America's Cup.
In 1920 she had a motor installed and in 1936 the rig was changed to a Marconi ketch.
"My father, having come across Molita on the Holy Loch at Morris & Lorimer's in the course of his work at the Admiralty, bought her in 1945 at the war's end. For two years Molita was stationed at Kirkcudbright, along with the Fyfe designed Solway Maid. Winter lay-up was at Annan. Apart from local cruising on the Galloway coast and engaging in some training with sea scouts, the only voyage we took was to Larne in Northern Ireland. Winter lay-up was at Annan. Due to the younger crew becoming interested in Dragon racing, Molita was sold in 1947".
"These photos are not up to standard but are the few I have on hand. The gaff rig was pre-war. The other pictures are from the Solway. If I ever find better copies I will send them. The top right picture shows my father about to board Molita at Morris & Lorimer's.
Above information courtesy of Alastair Hannay
"I was a friend of the Potter family who acquired Molita in 1948/9 and regularly crewed for seven years until 1955.   Tom Potter sold his partnership shares in 1947 and this enabled him to sell Elvira and buy Molita.
Morris and Lorimar at Sandbank looked after maintenance, moorings and winter storage (October to April).   Later, with a decline in profits in the Govan foundry, Molita was wintered at a yard at the mouth of the river Leven overlooked by Dumbarton Rock.
The first few weeks each year were spent in the firth of Clyde sailing to places like Loch Goil and Rothesay.   Then early in June Molita was sailed to Tarbet on Loch Fyne and then through the Crinan Canal to the basin at Crinan.   Weekend trips followed up Loch Craignish or over to Jura.   Then Tom and his daughter Annette would arrive for the start of the annual cruise.   They stayed in the hotel and Tom's son Hector and I bunked on board.   First stop Oban then on to Tobermory followed by Portree and Floddigary at the top end of Skye.   When Tom stayed in the Royal Clyde Yacht Club at Hunters Quay.   Ronnie Teacher, previous owner of Mariella, presided at the top of the dinner table and I sat below the salt.
In the 1960's I found Hector Potter using Molita as a houseboat in the canal basin at Bowling.   The next time was in the 70's in the basin at Crinan and it was good to see her back cruising.   A very comfortable and easy to sail boat as it only required two to manage"
Above information Courtesy of Adam Brown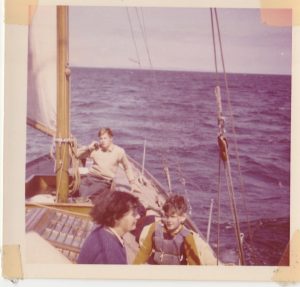 "My father owned this yacht in the 1960's, by all accounts…….. from about 1960 to 1965. Above is a picture with my brother on the tiller, and I'm the wee boy with my mother. I was born in 1952 and I look about 10." Pat Service
Pat and his sisters have looked through old photos of their family cruising and have come up with the following… Thanks Pat!
2003
Doctor Tim Liesenhoff found Molita in Oban, Scotland in 2003 still with her ketch rig. She was transported down to Mallorca and by 2007 he had restored her back to her original gaff cutter rig. He renamed her 'Marigan' which is a mix of his children's names (Morgan, Marine, Oceanne and Logan). She has been based in Palma De Mallorca ever since and is cruised and raced by family and friends during the Summer months when time allows.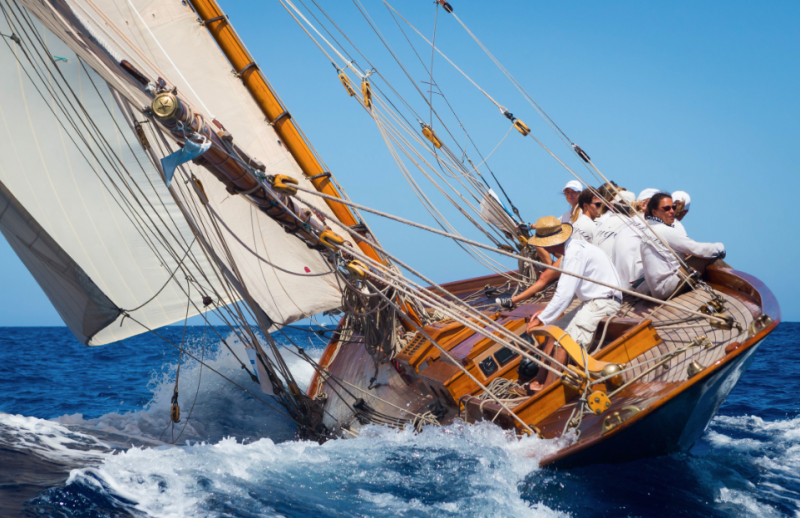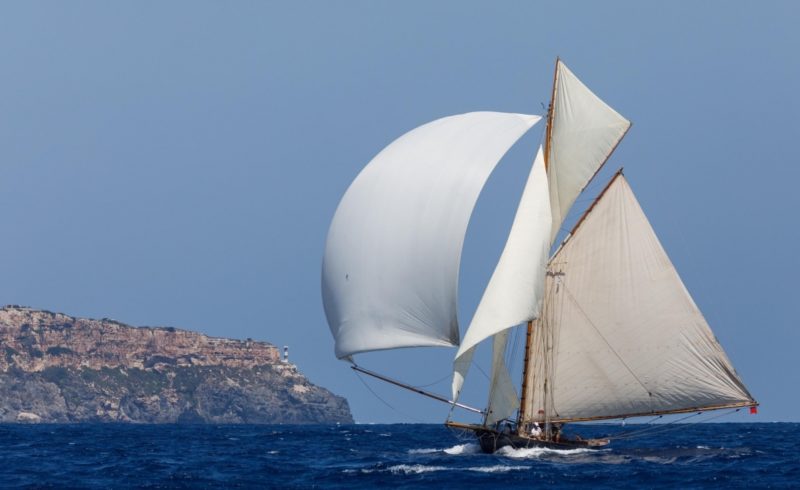 2021
Marigan is keenly for sale having been on the market for a number of years. Still based in Mallorca she remains in good condition. For further information click here.