HurricaV.com
"She was launched March 1924 for William Oliver, a wealthy wool grazier of Melbourne and splendidly maintained by three live-aboard paid hands until 1938.  In 1941 Hurrica was sold to a new owner, and converted from gaff to a "modern" Bermudan rig.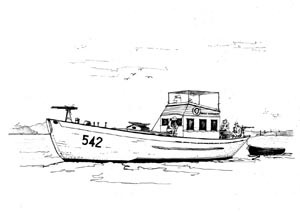 Soon after, the story takes a dramatic turn.  Stripped of her sailing rig and fitted with a flying bridge, new superstructure, and sponsons, the grand old yacht became HMAS 542 "Stingray", and conscripted into the Australian Navy.  She served as a naval patrol vessel in search and rescue in New Guinea during the Second World War.  Armed with a large machine gun on the bow and three more on the port and starboard sides and aft of the cockpit, plus together with depth charges, she was formidable, and fortunately remained intact through the war.
A remarkable survivor, after the war Hurrica was rebuilt and re-rigged as a yacht once again, and under several subsequent owners cruised extensively.  However with gradual changes and rebuilding, she slowly drifted away from her classic and stylish origins.
After eighty years and weathering two typhoons, plus years of tropic war service and considerable neglect, a much-needed bare-shell restoration was carried out by Australia's premier boatyard, Norman R Wrights & Sons of Brisbane, beginning in 2001 under the close direction of Steven Gunns, a new owner who is a skilled sailor and noted architect. The attention to detail in the restoration stretches the imagination:  all new bronze chain-plates were duplicated from the originals, x-rayed for casting voids and billet-tested for tensile strength.  An all-new layout using modern technology were envisioned, without losing the classic beauty that makes the vessel unique.  The result is a structure and finish that is far better than new. Being sleek and low to the water, the extent of accommodations is totally unexpected, includes a large owner's suite with a king berth and en-suite head, two queen guest cabins, plus a raised deck house with two more sailing berths. All eight berths are wrapped in French fabric covers and period reading lamps. A second head with separate shower serve guests and include a concealed washer/dryer.  Even the original 1920 "Baby Blake" toilets were retained, complementing the classic decor.
Amid electric gimbaled oil lamps, the saloon table seats eight with a wonderful GE period fan, ships half-hull model, mahogany paneling and chesterfield buttoned leather couches, giving the cabin the feel of a sailing gentleman's club. Modern internal conveniences are concealed including instrumentation, radar, TV, microwave oven, wine cabinet and even a washing machine. A deck house "drinks cabinet" when opened is home to autopilot, chart plotter and radar, VHF and HF radios, and wind instrumentation.
Under Hurrica's cockpit awning, eleven can sit in comfort around a folding cockpit table with a 1920 dual-light compass binnacle. Gleaming varnish, new hollow spars by Collars UK and lobster-back brass vent cowls complete this breathtaking restoration.
Classic yachts can be a handful to manage, and Hurrica features a 115 hp Perkins diesel with feathering prop and electric bow thruster for excellent control under power.  Under sail, self-tailing halyard and main-sheet winches (electrified) together with furling head sails, lazy jacks to control the main and mizzen, integral autopilot, and an oversize windlass make for an easily managed craft.   Running back-stays with bronze Highfield levers, masthead tricolor navigation light and modern instrumentation add to the easy-sailing nature of Hurrica.  The bronze winches were PVD coated in Germany for low maintenance.
The style and glamour of Hurrica V epitomize the lavish life of the wealthy in the Roaring Twenties, and this was recognized by Baz Luhrmann who produced "The Great Gatsby" with Leonardo Di Caprio as Jay Gatsby.  Restored in the style of its Edwardian origins, she has a layout tailored to the needs of the modern sailing family."
Before the Covid-19 pandemic the new owners were planning on taking Hurrica V to San Francisco Bay, expected to arrive this August, 2020.