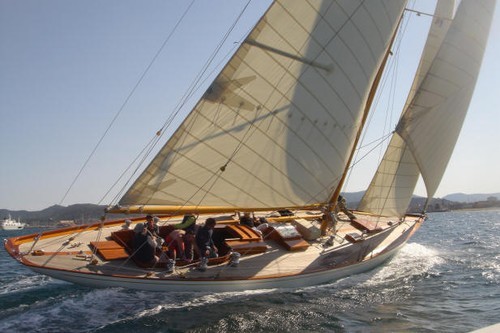 A beautiful Swedish built wooden classic yacht came across the Atlantic for the first time ever to participate in the St.Maarten-St.Martin Classic Yacht Regatta the third week of January.
The 52 ft (16 m) Marconi Cutter was designed by naval architect Tore Holm and originally built in Sweden by the Gambely Shipyard in 1937. The yacht went through a few major refits in 1987 and 2000 and is completely restored to her original state.
Her name 'Havsörnen' means 'Sea Eagle' and she is sailed by captain Alex Bordessoule and Bulle Heleardot with the help of several crew.
"The yacht has won several prizes in the Mediterranean regattas and will now try to do the same in the Caribbean classic regattas. The last scheduled regatta will be the Antigua Classics after which she will return to the South of France. The yacht is actually docked at Captain Oliver's Marina in Oyster Pond, St.Martin where the crew is working hard to give all the wood several new coats of varnish before taking part in the St.Maarten-St.Martin Classic Yacht Regatta 2008"
Information courtesy of www.classicregatta.com in 2007