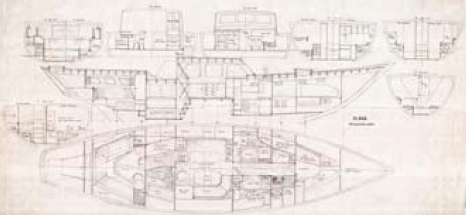 Glenafton is a deign that clearly held a special place in the heart of her designer, Alfred Mylne. In the 1969 December issue of "Scottish Field" magazine he talks at length about her. Here is his opening paragraph:
"As one design after another flows from a designer's drawing board, there are some which turn out to be happy boats; in later years they come readily to one's mind, even if they are small and unimportant to anyone else. As it happens, Glenafton is a large cruiser, by ordinary standards, but she was happy in the designing, happy in the building and she does everything well….."
Designed for James Douglas Campbell she had innovative features such as an electric sheet winch for the jib, and a bath tub which could be filed with hot sea water to soothe the owner's arthritis.