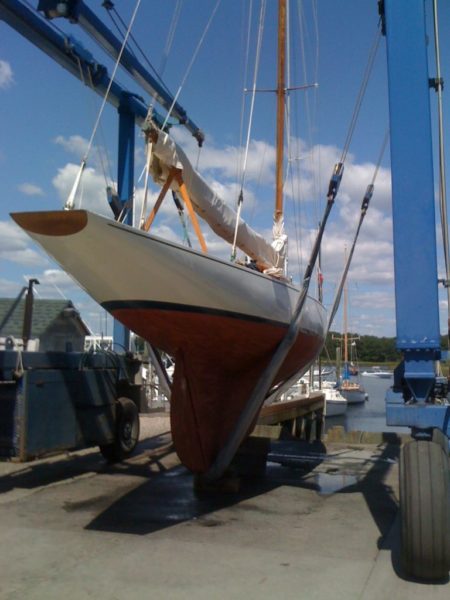 Built as one in a series of four 6-Metre yachts by the Thornycroft team to a single Fife design for a William Vett from Copenhagen. She was launched as 'Bonzo' named after a turn-of-the-century cartoon character dog and Vett sailed her to win Silver Medal at the 1924 Olympics in France with Knud Degn and Christian Moller as crew.
In 1926 she participated in the Scandinavian Gold Cup. In the 1930's and early 1940's she was owned by Jens Jespersen. In 1980 she was restored in Maine, USA to be a spectator boat at the 1983 America's Cup. However, on completion of the restoration she was being transported on a trailer where she bounced and came loose. She sustained major damage to her frames.
In 1998 she was re-launched and participated in the Newport Classic Regatta where her bad luck continued. She was hit beam on by a Concordia Yawl and she eventually got back onto the water again in 2000.
"After the '24 Olympics, Clarity participated in the 1926 Scandinavian Gold Cup, but was soon sold to Jens Jespersen, a master cabinetmaker in Copenhagen and one of the founders of the Kastrup Sejlklub (a yacht club 50 km. west of Copenhagen), who sailed her through the 1930's and 40's. It is believed that her enclosed cabin, which she still proudly sports, was designed and installed by Jens during this period. This would make sense, given its low, sleek lines inconsistent with more mid‐century cabins typically fitted to a yacht of her size.
Clarity is presumed to have come to the U.S. sometime in the 1950's. Her history in the states is unclear, until she was purchased in Maine in 1980, still sailing in very much her original (1920's) condition. The buyer, Jed Pearsall (then 22), prepped her in anticipation for his summer in Newport to observe the 1983 Americaʹs Cup. Unfortunately, during transit from the restoration shop in Pennsylvania, a strap broke loose and she bounced on the trailer, sending poppets through her hull and cracking several frames. So back into the shed she went, otherwise shiny and new. She stayed there for 15 years while Jed and his father (noted mid‐century Danish modern furniture designer, Adrian Pearsall) completed other restoration projects including the famous Herreshoff designed 1905 New York 30, Amorita, the 1913 Burgess P‐Class Chips (now sailing in the Med), and the beautiful 1925 Fife designed Hallowe'en.
However, Clarity never was out of the picture and with the help of MPG restorations in Mystic, Connecticut, she hit the water again in the spring of 1997 and enjoyed 20 glorious seasons exploring Newport's pristine sailing conditions. Jed's commitment to Clarity again never waivered. In fact, Clarity has been under the care of the Pearsall family for the past 40 years. Through all of her travails, she has continued to maintain most of her original structure, deck, planking, and nearly all of her original hardware and spars. She is very much a time capsule of a truly vintage Six."