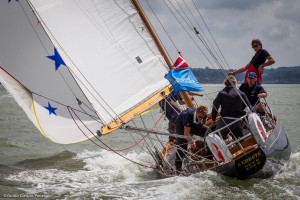 Cereste spent several years in the Mediterranean where her structure deteriorated significantly, although some running repairs were carried out to keep her in commission, before returning to the UK in the late 80's. Some further attempts were made at restoration but when she was found lying in Nayland, South Wales in 1998 she was in a very sorry state. A three year restoration process was undertaken and her inaugural passage, following this major refit, was a passage from the East Coast to the Solent to witness the 2001 America's Cup Jubilee celebrations.
Although, ravaged by time, much of the original structure and joinery was salvageable and thus she remains very much as original. The extensive refit presented the opportunity to improve and upgrade some features of the design which included a new teak deck, cockpit and coach roof and the installation of wheel steering. The original rig design was mast head cutter, although Robert Clark drew an alternative three quarter rig but the then more fashionable mast head option prevailed. Cereste is now re-rigged with the three quarter rig design which has greatly improved her performance and made her highly competitive under IRC and handicap racing.
Information courtesy of the BCYC.