Cariad, Welsh for "sweetheart", was the largest Arthur Payne yacht ever built (1896) and quite possibly the largest gaff ketch ever built. Commissioned for the 4th Earl of Dunraven, in May 1898 she competed in Lisbon for the 'Vasco da Gama Cup'. It was a regatta to celebrate the 400th anniversary of Vasco Da Gama's voyage around the Cape of Good Hope to India. Cariad achieved 1st place and returned home to the Royal Yacht Squadron with the Cup.
Between 1900 and 2006 Cariad changed ownership more than 10 times and adopted home ports in countries as far afield as South Africa and Japan.
In 2006 she was bought by Des Kearns and Stuart Williamson, the CEO of the Montpelier Group, and was undergoing a complete restoration at PSS Satun, Thailand.
2014 – It is believed her restoration never got under way and for now remains in a sorry state.
Comments
"I was reading the letters of my father Dr Ernest Reed today. He crewed on this yacht on a journey from the Caribbean to French Polynesia in 1949. It was then owned by a man called 'Mr Flitton'. My father described him as "an irascible bachelor of about 65" of English origin but had lived in S. Africa subsequently……….. She is a beauty though considerably more comfortable now than in my father's day!"
"It would appear he crewed on her (see photos below) from the Caribbean to Tahiti via the Panama Canal, Galápagos Islands and Easter Island. They were very nearly wrecked on Easter Island when a hurricane blew up and the professional skipper did not take appropriate measures. Subsequently they lost the anchor and locals dived 60 ft (free dive) to unfoul it and reattach the anchor chain."
"My father left the yacht in Tahiti but I understand she continued her round the world voyage, returning to S. Africa eventually." Dr Anthony Reed
Blog' thelongnwindingroad' saw Cariad at the event 'Boat Asia 2010'. It explains that she has "undergone a full restoration in Korat, Thailand. It was certainly a treat to be able to step onto her expansive wooden deck and into the gleaming wood panelled accommodation below decks".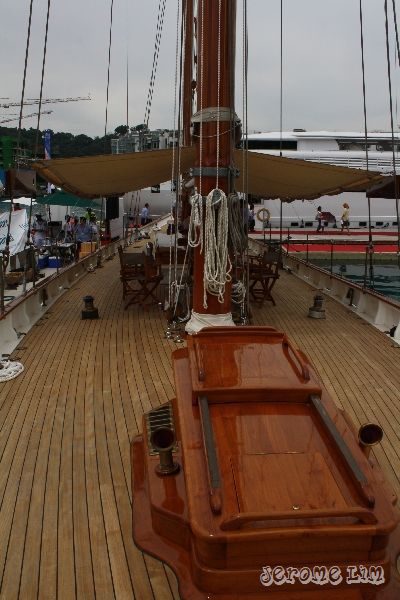 "Cariad was restored, and is at the Raffles marina at Tuas, Singapore. She was bought as a present for his father by a local businessman, and apparently hasn't left the harbour in five years. Still maintained and looking great, but goodness knows how much she's suffering in the heat", Ed Maggs, 12/2017.