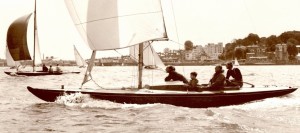 One of four dragons built in Gosport in 1947 and out of a total 21 Dragons eventually built by Camper & Nicholsons.
'Bluebottle' was a wedding present from the 'Island Sailing Club' to Princess Elizabeth and the Duke of Edinburgh and remained 'The Royal Dragon' until 1962.   With Lt-Cdr Graham Mann at the helm, she won the 'Coupe De La Mediterranee' in Nice.   She also won a Bronze Medal at the 1956 Melbourne Olympic Games.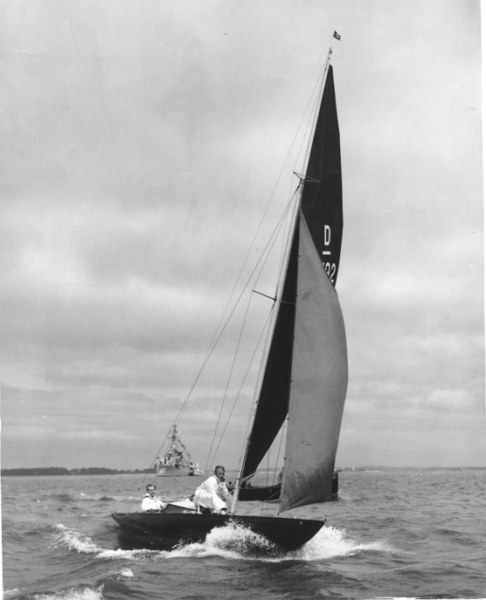 She now lies outside the Greenwich Maritime Museum in Falmouth.
"… throughout her racing years 'Bluebottle' was in the care of my brother Clive Smith who kept her in racing trim and coached amateur crews for competitive events such as the Olympic Games. He also acted as crew whenever the Duke of Edinburgh raced her. I have a large archive of photographs, two of the Duke's burgees (green ground with white circle containing castle) and receipts for prize money paid to Clive".
Information courtesy of Trevor Smith
"My father (Peter Corke) used to rub down and hand paint the Bluebottle at Marvins yard, Cowes, Isle of Wight in the early 60s. Many days when I was young he would come home with blood on all fingers after sand-papering the hull and mast. I was amazed that not one brush stroke could be seen but as he told me one must slow the paint down (reduce dry time) and soak his brushes in thinners over night. Dad went on to win the Federation Award for the best finished boat. He's 86 now and asked me to find out what happened to the Blue Bottle."
Information courtesy of Michael Corke